Hopkins Loses British Superbike Championship In Photo Finish
Chaparral Motorsports
|
October 12, 2011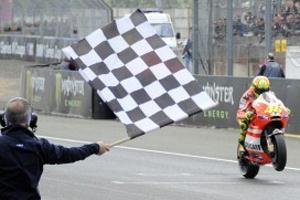 Professional riders know what it's like to lose a race by a few hundredths of a second, but only a select couple know what it's like to lose a championship by that amount.
Count John Hopkins among them. Hopkins has been locked in an intense battle for the British Superbike Championship all season with Tommy Hill, and it all ended up coming down to the final race. Neither would wind up getting the win for the day - that went to Shane Byrne. However, all eyes were on Hill and Hopkins as they battled for second place in the race and first place in the championship.
Hopkins led Hill for 17 of the 20 laps when Hill made his move and passed Hopkins. However, he was far from in the clear. When the final lap started, Hill held just a 0.06 second advantage. By the end of the race, Hopkins had gotten even closer. The final margin between the two was 0.006. Hopkins lost the championship by less than one-hundreth of a second.
In doing so, Hill and Swan Yamaha were crowned the season's best racers. Hopkins, meanwhile, failed in his quest to become the first American racer to win the British Superbike Championship.