Edwards To CRT, Dovizioso To Tech 3
Chaparral Motorsports
|
October 12, 2011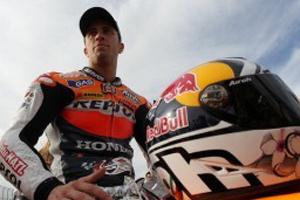 Andrea Dovizioso will be joining the Yamaha Monster Tech 3 team for the upcoming 2012 MotoGP season after Colin Edwards moved to one of the brand-new Claiming Rule Teams (CRTs).
The claiming rule is designed to allow privateer teams to enter MotoGP without the heavy costs typically associated with fielding a bike. Edwards' move opened up a spot on the Monster Tech 3 team, which Yamaha quickly filled with Dovizioso, who will be riding alongside Cal Crutchlow for the upcoming season.
"I'm happy to have reached this agreement with Tech 3 for next year and I want to thank [team owner] Hervé Poncharal for the opportunity he is giving me," Dovizioso said in a team release. "I am excited to become part of Hervé's squad and to be teamed with Cal. I am sure this new challenge will be exciting, motivating and fun. Now that 2012 is sorted I want to focus on finishing the season in the best possible way."
Dovizioso, riding for Honda, is currently in third place overall in the MotoGP standings, while Edwards is in ninth.