Russell Earns First GNCC XC1 Victory
Chaparral Motorsports
|
October 11, 2011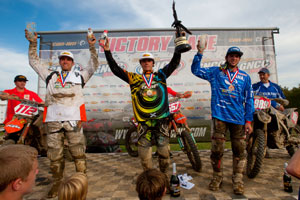 Factory FMF/KTM rider Kailub Russell earned his first GNCC XC1 pro class victory at the twelfth round of the Grand National Cross Country Series aboard the KTM 350 XC-F.
Although the weather remained dry for race day, rainfall earlier in the week had made the course very wet and extremely slippery. FMF/KTM rider Charlie Mullins got the jump off the line and the holeshot while Russell was one spot behind him in second position. The third member of the team, Cory Buttrick, returned to racing for the first time since a concussion a few weeks back. Unfortunately, he did not get his bike started right away off the line and he came around the first corner dead last.
As the riders passed the one lap mark it was still Mullins who had a slight edge on Russell. The two teammates remained in close battle throughout the next lap. Meanwhile, Buttrick had fought his way up to fourth place at the end of the first lap in an impressive early charge through the pack.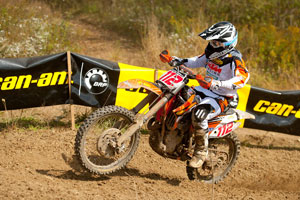 On the second lap, Russell took over the lead from his teammate, who still remained close. On lap three, Mullins got stuck in a mud hole and allowed Russell to break away. Russell went on to strengthen his lead every lap after that and went on to take his first career XC1 class win in his rookie season. Russell won the race by 1 minute and 23 seconds over Mullins who would hang on to finish second and gain some valuable points on Josh Strang and Paul Whibley in the championship chase. Unfortunately Buttrick did not have as good of luck and suffered from a mechanical issue late in the race and was not able to finish the event. After twelve rounds, Mullins now holds a 26 point lead in the series points.
KTM riders topped the podium in the XC2 class as well where Steward Baylor took his fifth win of the season with a two minute advantage over Jordan Ashburn. Securing this win left Baylor with a 38 point lead in the XC2 championship point standings. RPM/KTM rider Maria Forsberg, who was already crowned the 2011 GNCC Women's class champion, put in another impressive victory winning her race and finishing second overall in the combined morning class results. This marked Forsberg's ninth win of the season.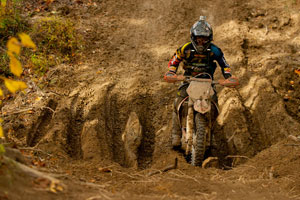 Factory FMF/KTM Team Manager, Antti Kallonen, commented on the weekend, stating, "This was a great weekend for our team. We are very proud of Kailub who secured his first career win in the XC1 class on his 350 KTM. We are also happy that Charlie was able to finish second and move himself up in the point standings. It's disappointing that Cory was unable to finish this event but we look forward to having all three compete for the podium at the next round. We are excited to take this momentum and use it through the end of the season."
Next Event: Round 13 - Crawfordsville, IN - October 22-23, 2011
Overall Results: XC1 Class
Kailub Russell
Charlie Mullins
Thad Duvall
Paul Whibley
Josh Strang
Jimmy Jarrett
Mike Lafferty
Nate Kanney
Jesse Robinson
Scott Watkins
Overall Results: XC2 Class
Steward Baylor
Jordan Ashburn
Jason Thomas
Rory Mead
Andrew Delong
Morgan Moss
Nick Davis
AJ Stewart
Steven Squire
Ryan Lojak
Overall Results: Women's Class
Maria Forsberg
Ashley Crouch
Leeann Bange
Hannah Otto
Samantha Steiner
Overall Point Standings: XC1 Class
Charlie Mullins - 245
Josh Strang - 219
Paul Whibley - 213
Kailub Russell - 180
Nate Kanney - 160
Overall Point Standings: XC2 Class
Steward Baylor - 243
Jason Thomas - 205
Jordan Ashburn - 196
Andrew Delong - 193
Jesse Robinson - 146
Overall Point Standings: Women's Class
Maria Forsberg - 160 *Champion
Ashley Crouch - 142
Leeann Bange - 137
Mandi Mastin - 132
Samantha Steiner - 125