Local Motorcycle Ride To Pay Tribute To Extreme Makeover Family In Iowa
Chaparral Motorsports
|
October 11, 2011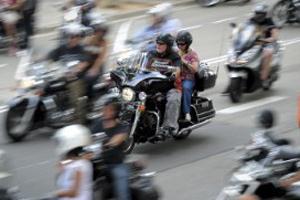 Audrey Gibbs and her family were chosen by Extreme Makeover: Home Edition to have a brand new home built in place of their current, dilapidated farmhouse in Waukon, Iowa.
During the renovations, the Gibbs family stayed at a resort in Boca Raton, Florida, for a well-deserved vacation. The Waukon Standard reports that Audrey's husband, Joe, passed away in 2000 after losing a battle with cancer, and a few months later, Audrey suffered from a brain aneurysm that left her legally blind. Since then, the Gibbs family has been struggling to make ends meet, and their home was in such a bad state that Extreme Makeover demolished it and built them a new house.
A motorcycle ride was held on Saturday in honor and celebration of the family. The ride was scheduled to take place the day before Ty Pennington, the show's host, arrived to unveil the completed home to the Gibbs. Locals knew where the makeover was taking place, but the recipients' identities and location were kept secret from the general public until the project was completed, The WCF Courier reported.
Waukon Harley-Davidson hosted the ride, which was made up of nearly 600 riders on more than 450 street bikes and cruiser motorcycles, according to KCRG-TV. They donned their motorcycle riding gear and headed out from the dealership to the site of the Gibbs' newly renovated home.