Design Student Creates Fashionable Motorcycle Helmet For Women
Chaparral Motorsports
|
October 11, 2011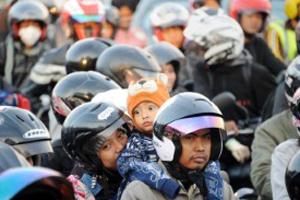 Motorcycle helmets are often designed with safety as the number-one priority, but style is equally important to many riders, including the increasing number of ladies who are choosing bikes and scooters as their main mode of transportation. This growing group is perhaps the target for a new style concept for motorcycle helmets that is both fashionable and functional.
Daniel Don Chang, a product designer at the Art Center College of Design in Pasadena, California, recently designed the Luxy motorcycle helmet, which was inspired by the recent asymmetrical haircut fad, to allow women to be trendy and safe, according to Clutch and Chrome. Chang's hope is that the fashion-forward design on the Luxy will encourage more riders to wear helmets and engage in safe-riding practices.
Not every state has laws in place that require riders to don helmets when they ride, but a 2009 report on the usefulness of motorcycle helmets by the National Highway Traffic Safety Administration found that helmeted riders involved in crashes were less likely to suffer severe injuries than those who chose to ride without the safety gear.
Perhaps having more fashionable options for safety wear will inspire more riders to wear helmets when they hit the open road. The Luxy may never make it production, but it might inspire others to consider new helmet designs.