Borich Wins Powerline GNCC
Chaparral Motorsports
|
October 11, 2011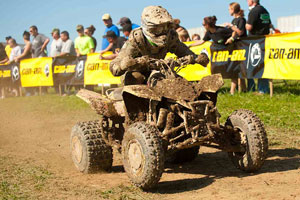 Rockstar Makita Suzuki's Chris Borich celebrated his seventh AMA victory of the season at the Powerline GNCC in St. Clairsville, Ohio on Saturday.
Reigning Champion Borich came from behind to take the victory on his Yoshimura-equipped Suzuki QuadRacer R450 at round 11 of the 2011 Grand National Cross Country series. This result also saw Borich extend his lead in the overall Championship standings.
"It feels great to get my Rockstar Makita Suzuki QuadRacer R450 back on top of the podium," said Borich. "It was good to come out here on a tough track and have a good race. I came back stronger than ever and was able to stretch our point's lead, so it was a good day. My QuadRacer worked great and I want to thank my Rockstar Makita Suzuki team for all their hard work."
In the race, Borich overcame a mid-pack start, then put his head down and worked his way through the field into second place. Settling into a groove, he began reeling in the leader and, with less than two miles to go, he made a thrilling, last-lap pass to take the win.
"Brian Wolf set a good pace there at the beginning and he checked-out on us," said Borich. "But I finally got comfortable with the track and started picking riders off one at a time. And then I ended up catching up with Brian, and it was a good battle right to the end."
With this win, Borich not only celebrated his seventh victory of the year, but the Rockstar Makita Suzuki rider also stretched his lead in the overall standings to 36 points over second place. Currently, there are only two rounds remaining on the schedule.
"I'm looking forward to the next race in Indiana," said Borich. "We'll go in there well prepared and try to add to our points lead, and hopefully get this thing done."
The series moves to Crawfordsville, Indiana on Saturday, October 22nd, for the Ironman GNCC.