Piaggio MP3: The Scooter With Training Wheels
Chaparral Motorsports
|
October 10, 2011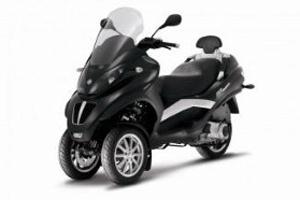 When people first learn how to ride a bike, they typically use training wheels on the back until they learn how to keep their balance. These back two wheels help ensure that the bike remains upright no matter what happens.

Piaggio, the Italian manufacturer that owns the Vespa, Aprilia and Moto Guzzi scooter brands, is taking that philosophy and applying it to their new product - but on the front wheels. The new Piaggio MP3 features three wheels, but two are in the front with just one in the back, reports The New York Times.

The new scooter utilizes a unique steering system to link the two front tires and have them essentially act as one. The two wheels give the scooter much better stability when cornering, along with double the braking power. They also prevent the scooter from falling over when stopped - much like training wheels.

However, as the bike gets up to speed, the steering system engages and the two wheels are treated as one - making it handle no differently than any other scooter on the market.

The Piaggio MP3 comes with 250, 400 and 500cc engine sizes, retailing for $7,199, $8,699 and $8,899, respectively.