Hayden Flies To Spain To Test Ducati GP12 At Last Minute After Rossi Injury
Chaparral Motorsports
|
October 7, 2011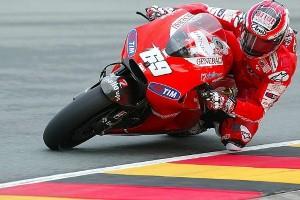 Ducati had just eight days scheduled to test their Desmosedici GP12, the bike that they will use in MotoGP next year, before the end of the season, and they had already used up seven of them. The eighth was scheduled to be Valentino Rossi's turn to test the bike in Jerez, Spain, but the rider had to pull out at the last minute after re-aggravating an existing finger injury.
That left Ducati scrambling to get their other rider, Nicky Hayden, to Spain before the test was up. Hayden had just flown from Japan to his home in Evansville, Indiana, and had been back for less than 24 hours before he had to hop on another plane on short notice to get to Jerez.
Fortuantely, Hayden was able to get there in time and test the bike, although the team has not yet released the rider's thoughts on the new model. That means Rossi has ridden the bike five times and Hayden three this year. The team will be allowed to test the model more after the final race in Valencia.
It is unknown if Rossi will be riding in that race due to the injury, which he aggravated during a crash at the recent Japanese Grand Prix. The rider originally suffered the injury in his finger way back in 1995, but caused a new hairline fracture with the crash.