Evolve Motorcycles Announces Three New Electric Scooters
Chaparral Motorsports
|
October 7, 2011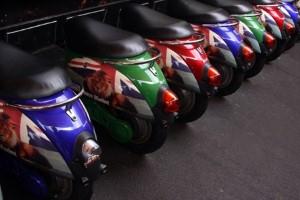 Scooters are a popular alternative to street bikes and other vehicles, especially in the city, as they tend to use far less gasoline and cost substantially less than other two-wheeled vehicles. They're also pretty convenient when you want to go to an area where parking a car would be nearly impossible.

Evolve Motorcycles recently announced the fall launch of three new all-electric scooters - Titanium, Helium and Neon. SlashGear.com reports that the Helium's 1500-watt motor can take its driver up to 40 miles on a single, full charge. For $2,900, the entry-level scooter can go as fast as 40 miles per hour. The Neon is the next step up. For an additional $1,000, the Neon's electric motor is twice as powerful and can reach speeds up to 50 mph and has a farther range of 50 miles per charge.

The Titanium model is the best-performing scooter in Evolve's lineup, with a 5000-watt motor that can get the scooter racing up to 70 mph. The Titanium's higher level of performance is marked by its $5,400 price tag. All three of the new scooters take 2.5 hours to fully charge.

According to EV World, an app allows Evolve scooter drivers to locate one another and charging stations. They can also share pictures and videos and contact emergency services through the app.