Tommy Hayden Without A Team
Chaparral Motorsports
|
October 6, 2011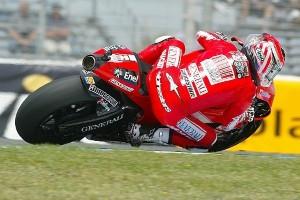 Sometimes the economic realities of motorcycle racing leave riders without a job, and that's exactly what's happened with Tommy Hayden, who will not be returning to the American Suzuki team next year.
Hayden had a great year by most standards, winning three AMA Superbike races and finishing third overall in the standings. However, it wasn't enough to keep his job safe for the upcoming 2012 season. Suzuki will be downsizing their team and going with Blake Young, who finished second overall, as their official rider. Chris Clark will be taking the other spot, but he is paying in order to have the privilege to do so.
Hayden, who has had a long and successful career, doesn't want to pay just to ride at this point.
"I mean, it's just the way it is," Hayden told Cycle News in a phone interview. "It's really a bummer, but I don't know what to do about it. It's just the way the sport is right now. You either have money or bring money. I'm not sure if I'd won the championship this year I'd be in any different position."
Hayden's brother, Nicky, races in MotoGP, while his other brother Roger is on Jordan Suzuki. Tommy says he has spoken with Jordan Suzuki about possibly signing up with them, but the team is wary of fielding three riders - in addition to Roger, they also have Ben Bostrom.