Motorcycle Glove Buyer's Guide
Chaparral Motorsports
|
October 6, 2011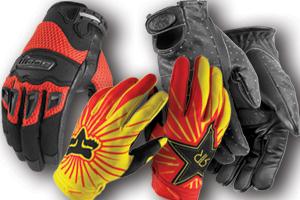 Many people think of motorcycle gloves as accessories rather than safety devices. Certainly, not nearly as much attention is paid to a purchase of motorcycle gloves as it is to a helmet or other device. It's also true that many riders don't even bother to buy motorcycle gloves, instead using whatever they happen to have lying around the house.

However, gloves can be an extremely important purchase for any rider. Ultimately, these are the piece of motorcycle apparel that interacts with the controls of a bike. If they're not top-notch, or if the rider is not comfortable with a particular pair, the entire experience can suffer.

For starters, one of the main reasons to purchase gloves is safety. Many riders have never been in a full-fledged accident, but almost all have been in minor scrapes where they become detached from their bike. In almost all of these instances, your hands are going to be touching the road. If you're a smart and safe rider, there's armor in your jacket, a helmet on your head and a sturdy pair of boots around your feet. So why ignore your hands?

Motorcycle gloves are made of tough material that will resist being chewed up by asphalt. However, the truly top-of-the-line models will have extra padding or reinforcements sewn into the lining, especially in the palms and knuckles areas. This is important, because it means that the most sensitive parts of your hand will be protected in case of any minor scrapes.

As with all pieces of motorcycle apparel, fit and comfort is also important. Not all hands are created equal, and a set of gloves that feels unwieldy to one user may be like a set of second skin to another. Fortunately, there are so many different types of gloves out there, that a rider will never have to compromise. This also goes hand-in-hand with what material you select. Some may like leather gloves that match up with their leather jacket. Others may prefer the feel of a synthetic material. Try a bunch of different gloves in order to see what works best for you.

Moisture is the key factor you need to consider when purchasing gloves. Over longer rides, sweat and grime will start to build up. Purchasing a ventilated pair of gloves made of a material that wicks away sweat and moisture can be key to keeping your hands dry. If your hands start to get sweaty or wet, it's too easy to slip off the handlebars and make errors while riding. As an added bonus, these gloves tend to also protect during rainy weather.

If you're going off-roading or competing in a race, the extra insulation and padding provided in a glove can definitely be beneficial. As long as the glove is still comfortable, there's no downside in buying something that offers as much protection as possible. Of course, racers also need to make sure that they have control - just don't skimp out on the added protection, as crashes are common in races and a hand injury can be tough to overcome.

Meanwhile, cruiser riders have a different set of considerations. Often, these riders will be dealing with pressing buttons on their bikes or communication systems. If you plan to be doing this a lot, a bulky glove is not helpful. Look for something that will give you a lot of precise control, especially in the finger area.

Keeping these factors in mind and knowing what type of riding you plan on doing will help you select a motorcycle glove that is perfect for you.