Pastrana Recommits To NASCAR After Motorcycle Injury
Chaparral Motorsports
|
October 5, 2011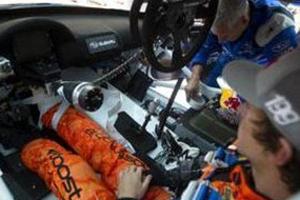 Travis Pastrana just can't say "no" to anything that has a few wheels and an engine - whether its two wheels or four. The racing superstar was set to compete in this year's NASCAR Nationwide Series, something he had talked about for quite some time.
However, that didn't stop him from attending the X Games and attempting a wild motorcycle stunt. Unfortunately for Pastrana, he injured his ankle during the stunt and is now on crutches. The injury has sidelined the racer for the entire season, putting his career on hold for the moment.
Pastrana said that he loves motorcycles and doesn't ever see a day when he will not ride them ever again. However, he did say he planned to ease off the stunts in the future as he focuses on NASCAR.
"Not to say my action sports career is done, but as far as anything taking risks, I'm definitely going to be in this car and trying to do the best that I can to put my best foot forward," said the multi-sport superstar. "That was the most disappointing thing in my life not only to have myself but to have an entire team that was waiting for me and banking on me being in the car. A lot of friends had to find other work. Definitely something I took to heart and I don't ever want to happen again."