Russell Bobbitt Crowned AMA National Enduro Champion
Chaparral Motorsports
|
October 3, 2011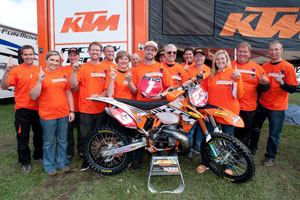 FMF/KTM rider Russell Bobbitt secured his fourth AMA National Enduro Championship with a win over teammate Charlie Mullins at the final round of the 2011 AMA National Enduro Series.
Leading up to the final round of the series, Mullins was leading Bobbitt by one point in the championship chase. Both riders came into today knowing that no matter what place they finished whoever beat the other would be crowned the series champion. Both riders suited up and the FMF/KTM Team battled for the championship.
Bobbitt came out swinging taking a convincing win in the first test section. He beat Mullins time by 13 seconds at the first marker. The second test of the day caused some confusion for some riders including Bobbitt and Mullins and the times were later thrown out. Bobbitt continued to thrive from his first test section win and won the remainder of the test seconds to take the overall win for the day and his fourth championship title. Mullins held strong to secure 2nd overall while Husaberg rider Mike Lafferty finished 3rd.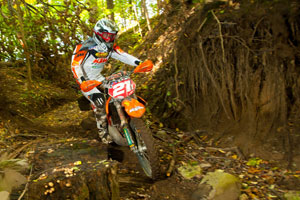 "It was a great race to win because it was a long year and a tough season. My injury halfway through the season really set me back. I have healed over the past few weeks and was excited to come back and fight for the win. I felt good all day and everything just clicked. My bike worked really well. Thanks to my mechanic Tanner, my friend Andrew Marsh, my family and the whole FMF/KTM Team for helping me earn this championship," remarked Bobbitt.
Mullins, although disappointed he did not win the championship, congratulated his teammate on his win, and stated, "I gave it everything I had today. All you can do is your best and that is what I gave today. I am really excited for the team and Russell and know that I will need to fight harder for the championship next year."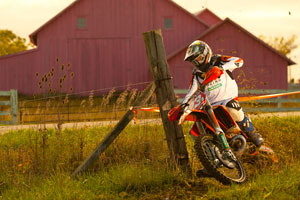 Overall Results:
Russell Bobbitt
Charlie Mullins
Mike Lafferty
Overall Point Standings:
Russell Bobbitt - 249
Charlie Mullins - 235
Nick Fahringer - 198