Dungey Leads Suzuki At MX Of Nations
Chaparral Motorsports
|
September 17, 2011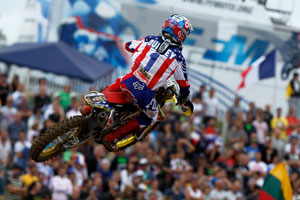 A warm but cloudy St Jean D'Angely hosted the first day of the 65th Motocross of Nations and Ryan Dungey was part of a dominant performance by reigning champions Team USA as the 2010 AMA SX and MX number one took his RM-Z450 to pole position by winning the MX1 class.

The American completed a convincing 20 minute and 2-lap heat race by defeating World Champion Tony Cairoli and securing what would be the first of three victories for the 'Stars and Stripes' in front of a big and appreciative crowd at the hard-pack hillside venue.

Riders spent time on suspension settings and tire choice to optimize grip for the stony French terrain that was in good shape for the biggest off-road motorcycle race there is.

While Dungey topped the results sheet in MX1 there were other RM-Z450s doing the business for the 36 Nations entered into the competition: Kevin Strijbos participated in an entertaining spat with Gautier Paulin and Davide Guarneri for second place in the MX Open Qualification race. The Belgian notched the best finish for the three-man team with fourth and holds a decent chance of a top-three classification in his category for tomorrow. Brett Metcalfe was fifth in the same outing for Australia and just two seconds behind the former World Championship runner-up by the flag.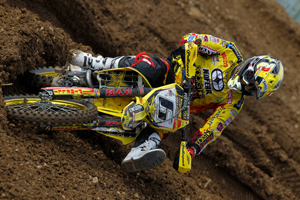 Yoshi Atsuta was representing Japan and although the team had to start from second-to-last place in the gate, thanks to some bad luck in the official 'Nations ballot this morning, the ex Grand Prix rider set a decent speed to take 11th in MX1. Yoshi-san has not ridden at St Jean for five years but still knew his way around the French slopes. Japan made the cut for the 'Nations with the 18th and the penultimate automatic slot. Suzuki Europe MX2 was able to watch Swiss youngster Jeremy Seewer take the same rank on the RM-Z250 in the third event of the day.

Bright weather conditions and a packed St Jean racing facility are the predictions for the final race-day of the season.

Ryan Dungey:
"Practice went good and we made a couple of small changes - a few clicks - for the rest of the day and when the track dried, it worked out. I took the holeshot, made some good laps and felt comfortable. We'll see how it plays out tomorrow but I'm feeling good."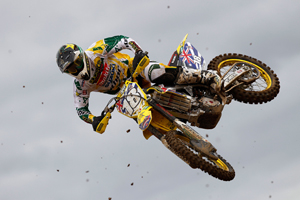 Brett Metcalfe:
"It was good but I need a better start. The result was OK but I need to be better than that tomorrow. I found it difficult to pass on that track but the bike was working great after a few small adjustments. We will pick it up tomorrow."

Kevin Strijbos:
"I had a good launch from the gate but I think I had some wheelspin because I lost drive in the first metres. I was in eighth but riding went good and I was aggressive in the first laps. I got behind Paulin and Guarneri and was close enough to get into positions to pass but couldn't make any stick. It was difficult to make a good move out there. Anyway it is fun to ride at the 'Nations that's for sure. I think the French are one of the best public we have in the sport and I'm looking forward to tomorrow."

Yoshi Atsuta:
"It went alright today. I had a bad position on the gate but the engine of the bike is really strong and I could pull out of the start. I was around seventh or eighth and then behind Barragan the whole time. I did the best I could and I didn't crash, so I was happy! It is a long time since I've been here but the track is mega. It is not like we have in Japan where it is 'stop-go stop-go'."



MX1 Qualification Heat:



Ryan Dungey (USA, Suzuki), 23:46.461

Antonio Cairoli (ITA, KTM), +0:01.308

Christophe Pourcel (FRA, Kawasaki), +0:46.425

Chad Reed (AUS, Honda), +0:52.778

Tyla Rattray (RSA, Kawasaki), +0:54.664

Rui Goncalves (POR, Honda), +0:59.299

Tanel Leok (EST, TM), +1:01.397

Evgeny Bobryshev (RUS, Honda), +1:01.570

Tommy Searle (GBR, Kawasaki), +1:29.250

Jonathan Barragan (ESP, Kawasaki), +1:32.070

Yoshitaka Atsuta (JPN, Suzuki), +1:34.254

MX2 Qualification Heat:


Blake Bagget (USA, Kawasaki), 24:45.804

Marvin Musquin (FRA, KTM), +0:08.876

Dean Wilson (GBR, Kawasaki), +0:11.331

Ken Roczen (GER, KTM), +0:11.742

Joel Roelants (BEL, KTM), +0:35.043

Alessandro Lupino (ITA, Husqvarna), +0:55.250

Pascal Rauchenecker (AUT, KTM), +0:57.149

Stefan Kjer Olsen (DEN, Yamaha), +1:09.391

Jose Antonio Butron (ESP, KTM), +1:15.543

Stuart Edmonds (IRL, TM), +1:16.750

Jeremy Seewer (SUI, Suzuki), +1:19.430

MX Open Qualification Heat:


Ryan Villopoto (USA, Kawasaki), 24:46.792

Davide Guarneri (ITA, Kawasaki), +0:07.704

Gautier Paulin (FRA, Yamaha), +0:08.708

Kevin Strijbos (BEL, Suzuki), +0:09.677

Brett Metcalfe (AUS, Suzuki), +0:11.170

Gareth Swanepoel (RSA, Yamaha), +0:24.849

Jeffrey Herlings (NED, KTM), +0:26.038

Arnaud Tonus (SUI, Yamaha), +0:43.333

Carlos Campano (ESP, Yamaha), +0:45.547

Martin Michek (CZE, KTM), +0:52.961