Mullins Wins Unadilla GNCC
Chaparral Motorsports
|
September 13, 2011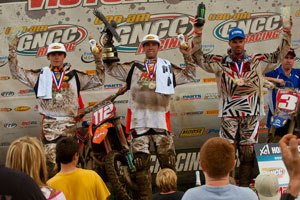 Factory FMF/KTM rider Charlie Mullins earned his third win of the season at the tenth round of the Grand National Cross Country Series held at Unadilla Raceway in New Berlin, NY, and more importantly, put his KTM back on top of the XC1 point standings.
Rain earlier in the week had caused major flooding on certain portions of the course which caused the track officials to shorten the loop to 9 miles. The course averaged 20 minute lap times which made GNCC history when riders completed nine laps in the 3-hour race marking the most laps ever completed at a GNCC event.
Mullins got off to a great start rounding the first turn in 2nd position. He was followed closely by his FMF/KTM teammates Kailub Russell and Cory Buttrick. Mullins was able to get around holeshot winner Paul Whibley and was then passed by Buttrick and Josh Strang. Shortly into the first lap, Buttrick and Strang came together when Strang went for a double jump and landed on Buttrick. Both riders went down. The crash ended Buttrick's race as he was sent to the hospital with a concussion while Strang sat sidelined in the pits for three laps before his bike was repaired. The incident left Mullins and Russell up front to battle for the lead.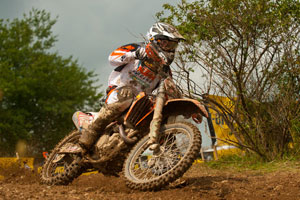 And what a battle it was. The FMF/KTM teammates traded the lead position multiple times within the first three laps. On the third lap, Russell began to tire from arm pump right as Mullins began his charge. Mullins was able to make the pass on his teammate for the lead position and never looked back until he saw the checkered flag. "I have been training hard to improve my speed and endurance over the break and I felt good today. Once out front, I settled into a good pace and rode my own race with no hiccups," remarked Mullins. He went on to win the race by 1 minute and 12 seconds over Russell who finished in 2nd position for the second straight race. The 3rd place position went to Paul Whibley while New York native Nate Kanney finished in 4th on his WMR- backed KTM machine. This win moved Mullins into the championship points lead with an 8-point cushion over Joshua Strang.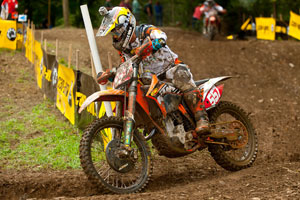 In the XC2 class, KTM rider and current point leader, Steward Baylor, suffered a crash early on and had to take his bike back to the pits for repair. He spent the remainder of the race catching back up to the leaders and eventually climbed to 4th. KTM support rider Andrew Delong landed on the podium with a 3rd place result.
The Women's class saw a familiar face up front. RPM/KTM rider Maria Forsberg celebrated her ninth win of the season at the Unadilla event. Her margin of victory was 3 minutes today ahead of fellow KTM riders Samantha Steiner and Hannah Otto.
Next Event: Somerset, PA - September 24-25, 2011
Overall Results XC1 Class
Charlie Mullins
Kailub Russell
Paul Whibley
Nathan Kanney
Christopher Bach
Jimmy Jarrett
Jedidiah Haines
Rory Mead
Mike Lafferty
Kenneth Gilbert
Overall Results XC2 Class
Jordan Ashburn
Jason Thomas
Andrew Delong
Steward Baylor
Scott Watkins
Zack Nolan
AJ Stewart
Jesse Robinson
Ryan Lojak
Steven Squire
Overall Results Women's Class
Maria Forsberg
Samantha Steiner
Hannah Otto
Ashley Crouch
Louise Forsley
Overall Point Standings XC1 Class
Charlie Mullins - 190
Joshua Strang - 182
Paul Whibley - 170
Kailub Russell - 134
Nathan Kanney - 129
Overall Point Standings XC2 Class
Steward Baylor - 187
Jason Thomas - 163
Andrew Delong - 149
Jordan Ashburn - 141
Jesse Robinson - 140
Overall Point Standings Women's Class
Maria Forsberg - 159
Ashley Crouch - 132
Nina Cobb - 114
Leeann Bange - 114
Mandi Mastin - 110