American Suzuki Announces 2012 Plans
Chaparral Motorsports
|
September 13, 2011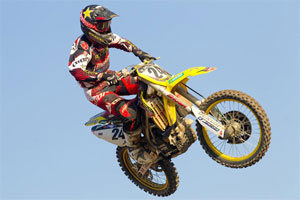 American Suzuki Motor Corporation (ASMC) has announced plans for the upcoming 2012 AMA Supercross and Motocross seasons that include returning Suzuki rider Brett Metcalfe.
The 27-year-old Australian joined Suzuki at the beginning of the 2011 season with solid credentials and has demonstrated strength, determination and the ability to win aboard the Suzuki RM-Z. Although injuries shortened his 2011 Supercross season, Metcalfe has shown his ability during the current motocross season, scoring an overall win as well as two podiums and three top-five finishes. Metcalfe finished the season a solid fourth in points in the 2011 AMA Pro Motocross series.
Metcalfe's team mate, 2010 AMA Pro Motocross Champion Ryan Dungey, will be leaving the team at the conclusion of the 2011 motocross season. American Suzuki will, however, continue to support Dungey for the upcoming Motocross of Nations which will be held on September 17th-18th in France.
"We're extremely happy to have Brett Metcalfe as part of our team for 2012," said team manager Mike Webb. "Metty has shown he has the stuff to win and is a great ambassador for the sport and a quality representative for American Suzuki. Ryan Dungey has had great success in his years with the team as Suzuki's Championship DNA propelled him to score both 250 and 450 titles aboard the RM-Z. We all wish Ryan much luck with his future endeavors."
Suzuki has been a dominant force in both series' for over seven years and has been a leader in technology in order to maintain that stronghold with the continued development of the Suzuki fuel-injected RM-Z450. Since its introduction, the RM-Z450 has amassed the most AMA Motocross Championships as well as the most motocross race wins of any four-stroke 450. The RM-Z was also the first four-stroke AMA Supercross Championship 450 and the first fuel-injected 450 to win AMA Supercross and Motocross titles.