Steffi Laier To Ride For JDR/J-Star/KTM At The Pala National
Chaparral Motorsports
|
September 9, 2011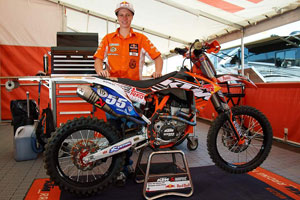 Multi-time FIM World Motocross Women's Champion Steffi Laier will ride for the JDR/J-Star/KTM Team for the final AMA Women's Motocross National at Pala Raceway this weekend.
Laier, who raced the Hangtown Motocross National in May, is excited to return to the states for the final round. "I enjoy coming over and racing in the U.S. I like racing against new competitors at new tracks and different riding conditions. It is a good experience for me and a welcomed challenge," remarked Laier.
Laier, who finished 3rd overall at the Hangtown Motocross National, is hoping to land on the podium again at Pala. JDR/J-Star/KTM Team Manager Nathan Ramsey commented, "We are excited to have Steffi race under our tent at the final national. We are happy to support her racing efforts in the states and excited to have the reigning World Women's Champion representing our team."