2011 AMA Superbike Chamionship Final Standings
Chaparral Motorsports
|
September 9, 2011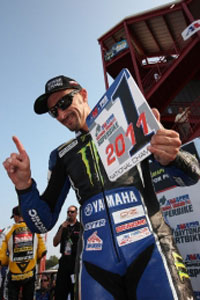 Yamaha's Josh Hayes Repeats As American SuperBike Champion
As a fitting conclusion to one of AMA Pro Racing's most exciting seasons, the Yamaha U.S. Road Racing Teams had one of its most successful and memorable weekends ever in American motorsports competition, last weekend in Millville, New Jersey.
Monster Energy/Graves/Yamaha rider Josh Hayes dramatically and successfully defended his American SuperBike Championship aboard his powerful, crossplane-crankshaft YZF-R1(r) at New Jersey Motorsports Park, the final round of the AMA Pro Racing season.
Coming into the weekend just five points behind in the Championship chase, Josh quickly went to work at making up the deficit. He earned a valuable point for winning the pole in Saturday's qualifying session, which made it a remarkable eight out of nine pole positions won by Josh this season. Then, later on Saturday, Josh won SuperBike race one, and he also earned another bonus point for leading the most laps.
Coming out of Saturday's excitement, Josh turned his 5-point deficit into an 11-point lead by the end of the race day. On Sunday, Hayes needed only a podium finish to add back-to-back Superbike titles to his resume. From start to finish, the race was very much in contention, but never more so than on the final lap. Josh's points lead increased and decreased with practically every one of the 14 turns on the track, and by the time his blue-white-and-black Monster Energy/Graves/Yamaha R1 crossed the finish line for the final time, he had captured his second American SuperBike Championship in a row. He finished the day, and the season, five points ahead of his closest competitor, which, ironically, was the polar opposite of where he began the weekend. It was a remarkable turnaround for the Mississippi native and indicative of his unbeatable will to win.
"We're all so happy for Josh. He works hard at his racing, and he's a great representative of the Yamaha brand, as well as Monster Energy and Graves Motorsports. Two in a row is quite an accomplishment, especially against such tough competition."
- Keith McCarty, Motorsports Racing Division Manager for Yamaha US
Spectacular riding also by Monster Energy/Graves Yamaha's Josh Herrin and Yamaha Extended Service/Pat Clark Sports/Graves Yamaha's Tommy Aquino in Daytona SportBike gave Herrin a second and a win, and Aquino a win and a third, aboard their YZF-R6s. In Saturday's race one Aquino's won over hard charging team-mate Josh Herrin, and followed by fellow Yamaha R6 rider Cameron Beaubier, making it an impressive, all-Yamaha podium. Sunday's race two was also Yamaha dominated with Herrins first and Aquino third.
Josh Herrin completed the season in second place overall while Tommy Acquino finished third in the Championship points standings, to give Yamaha two R6s in the top three.
Hayes Hangs On To Win Championship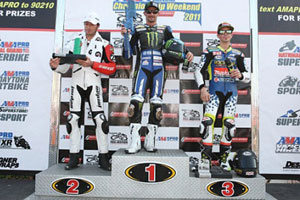 Josh Hayes is the AMA Superbike Champion after a thrilling final lap that nearly saw Blake Young run away with the title.
Since Hayes had the points advantage going into the final race, he only needed to finish third or better to win the race, assuming Young finished first and got the extra points for leading the most laps. Young dominated the race and was out in front heading into the final lap, and things didn't look good for Hayes. That's because the racer was all the way back in fourth, with Ben Bostrom and Roger Lee Hayden in between him and Young.
"There were so many things going on in that race. What an 'exhale' it was when I crossed the line. I'm really glad to bring [the Championship] home again. Big thanks go to the entire Monster Energy/Graves/Yamaha team for giving me the best bike in the paddock."
- Josh Hayes
Hayes needed some luck, and got some when Bostrom made a mistake and ran off the track. Hayes was also able to pass Roger Lee Hayden by less than 0.1 of a second to earn second place. That was enough to give him the championship by just five points over Young.
"I feel like a wet rag that's been rung out," Hayes told Cycle News after the wild finish. "That race took two years off my racing life."
Hayes has now won two AMA Superbike Championships in a row.
AMA Superbike Final Standings
Josh Hayes - 363
Blake Young - 358
Tommy Hayden - 288
Martin Cardenas - 231
Ben Bostrom - 209
Roger Lee Hayden - 202
Larry Pegram - 190
Chris Clark - 157
Geoff May - 139
Steve Rapp - 139
Daytona Sportbike Final Standings
Danny Eslick - 275
Josh Herrin - 256
Tommy Aquino - 237
Jason DiSalvo - 224
Cory West - 215
Cameron Beaubier - 213
Dane Westby - 188
Taylor Knapp - 139
Tyler O'Hara - 122
P.J. Jacobson - 112