Veteran McCoy Gets Emotional Win At Age 41
Chaparral Motorsports
|
September 7, 2011
[caption id="attachment_12972" align="alignright" width="300" caption="Willie McCoy leading the AMA Pro Racing Grand National Mile - Photo: Dave Hoenig"]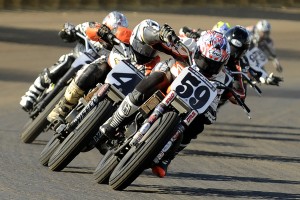 [/caption]

In what Cycle News called "one of the most surprising and unlikely victories in the history of AMA Grand National racing," veteran racer Willie McCoy won the famous Labor Day Weekend Springfield Mile, beating racers half his age as he claimed his first national win in his 23-year professional career.

McCoy, still racing at age 41, is semi-retired from the world of professional racing, hanging up his full-time motorcycle boots five years ago. Since then, he has only raced the Springfield Mile and Indianapolis.

There were plenty of tears when an emotional McCoy stepped to the top of the podium to enjoy his first ever win in a national race.

"It's unbelievable," McCoy told the news source. "On the cool-down lap I started crying a little bit because I was happy. It doesn't even seem real. It hasn't sunk in yet, but it will hit me sometime soon. We're going to celebrate and have fun tonight."

Chris Carr and Jake Johnson took second and third place, respectively. Both racers said that they were happy McCoy got the victory.

The race also had implications for the Grand National standings. Points leader Sammy Halbert ended up finishing seventh, allowing Jared Mees to close the gap to just five points. Johnson is now only five points behind Mees, setting up a three-rider race through the final four events of the season.