Yamaha Celebrates More ATV Success
Chaparral Motorsports
|
September 6, 2011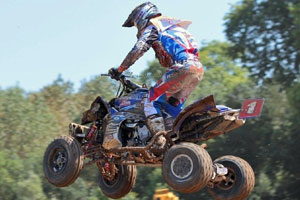 After two years of dominating the ATV category of the prestigious Dakar rally, Yamaha's quad technology continues to claim garlands and just recently wiped the top two steps of the grueling Pont de Vaux twelve hour endurance event in central France. Steering their YZF450R the trio of Frenchman Romain Couprie, Briton Paul Holmes and Dutchman Paul Maessen overcame brand-mates and Frenchmen Mathieu Ternyck, Antoine Cheurlin and Clément Jay for their second Pont de Vaux triumph in succession.
Couprie - who leads the 2011 UEM European Quadcross Championship by 15 points from Holmes with just two rounds remaining, the first this weekend in Denmark and the second in a week's time in Germany - stamped his authority on the event from the outset and the margin he established in the first of three heats helped to overcome 95 other participants. The veteran preserved his energy and equipment. "During the first round there were several falls and mechanical failures around me which allowed me to be in front and to take an important lead on our main competitors," he said.
Ternyck, Cheurlin and Jay owned the five-hour nocturnal second heat as well as the third outing but the leading team maintained their consistency and Yamaha celebrated their 15th victory in 25 editions of the meeting. Yamaha Motor France's Joel Bontoux said: "With this result we showed once again that the stock engine performance and reliability of the YFZ450R is fantastic. The YFZ450R did not encounter any technical problems, only the air filter on Quad No. 1 was changed. Pont de Vaux is a very hard race; it does not 'spare' the crews and machines."
Yamaha's ATV programme now switches to the culmination of the European series. "It is a beautiful championship," says Couprie "unfortunately some race locations are too far and consequently not all riders can come and compete. However, when the races take place in Germany, England and France the level is very high."