Nick Fahringer Injury Update
Chaparral Motorsports
|
September 6, 2011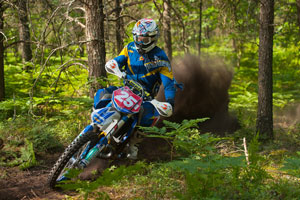 Husaberg Factory rider, Nick Fahringer, fresh off of three back-to-back AMA National Enduro wins, underwent a successful ACL surgery last week to repair damage suffered from a practice crash a few weeks back.

Now a few days after surgery, Fahringer reported that he is feeling better and that the doctors have assured him that the surgery was a success. He is currently in a soft cast with a brace and will be on crutches for another week pending doctor's orders.

"It was a hard decision to have them perform the ACL surgery prior to the last National Enduro round, but I am confident in my choice. Now, I will have time to heal before the start of the next season where I feel like I can be a real contender for the championship," remarked Fahringer.

For more on Fahringer, please visit his website www.nickfahringer.com.