2011 AMA Pro Motocross Steel City Results
Chaparral Motorsports
|
September 6, 2011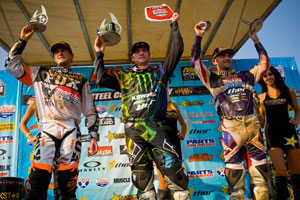 Villopoto Closes In On Title With 1-1 Performance
Ryan Villopoto appears to be well on his way to wrapping up the AMA Pro Motocross Series after an impressive performance in Pennsylvania gave him a 1-1 finish and plenty of cushion at the top of the standings.
It just wasn't Ryan Dungey's day, although the racer tried his best to gain some points on Villopoto. On the final lap of the first moto, Dungey was held up by a lapper, allowing Villopoto to sneak by and steal the win. In the second race, Dungey grabbed the holeshot but couldn't hold the lead for long as Villopoto eventually cruised to a victory with more than 15 seconds to spare.
With one race left on the schedule, Villopoto has a 14-point lead on Dungey - not enough to clinch the championship, but still comfortable. Essentially, Villopoto needs to hit the track and turn in a solid performance to ensure he walks out with the championship.
"You had to ride the track as hard as you could without making mistakes, which was really tough," Villopoto told Cycle News. "Getting a win in one of the motos was crucial heading into Pala. I have a little breathing room, which is nice, but I'm still going to have to go out there and race, just like everyone else."
Rockstar Makita Suzuki Double Podium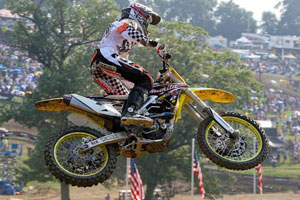 Team Rockstar Makita Suzuki captured another impressive double-podium finish at round 11 of the 2011 AMA Pro Motocross Championship in Delmont at the weekend as the Steel City National saw reigning AMA Pro Motocross Champion Ryan Dungey and his team mate Brett Metcalfe finish second and third respectively on their Yoshimura-equipped Rockstar Makita Suzuki RM-Z450s.
In Saturday's first moto, Dungey got a great start and took over the lead within the first few turns. Dungey pushed hard and led the entire 30-minute race before being overtaken right before the finish line. Although he finished in second place, it was by a mere 0.558 of a second. In the second moto, he got the holeshot and made a valiant charge, but wound up finishing in second place. The final result was second-place overall for the day.
"It was a tough, technical track but I think I rode pretty good this weekend," said Dungey. "Overall, I felt good and I had a strong pace on the Rockstar Makita Suzuki RM-Z450. Then, I went out on a limb and we made some changes before the second moto and it just wasn't doing it for me. I lost a bit of ground, but no excuses. We just need to keep our head up and move forward because there's plenty of racing left. We're going to Pala next, and to go 1-1 would be great, but all I can ask for is the most from myself. I like that track and I was able to win both motos there last year so it'd be great to do it again. I just want to focus on finishing the season strong for Team Rockstar Makita Suzuki."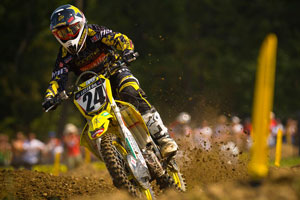 Metcalfe also put on an impressive performance: In the first moto, he was with the front-runners off the gate and was battling for third for most of the moto. His patience and consistency eventually paid off as Metcalfe took over the final podium spot on his Rockstar Makita Suzuki RM-Z450 before the race's end. In the second moto, he got another good start and moved up a few positions before finishing fourth. The combined results gave Metcalfe his third podium finish of the season.
"Steel City was a great day for me," said Metcalfe. "I was able to pull a third and I was happy to be on the podium. I was feeling really comfortable on the Rockstar Makita Suzuki RM-Z450 and, coming off the win last weekend, I was carrying some momentum. I felt really comfortable on the track and the bike was working great, so I knew I was in for a good day. My starts were better in both motos and that helped and I was also able to make some moves. Now I'm looking forward to Pala as it's kind of my hometown race. I'm just excited about that, I think it's going to be a good event and I look forward to putting the Rockstar Makita Suzuki back up on the podium and having a strong finish in the Championship."
The Rockstar Makita Suzuki team's next event is the 12th and final round of the 2011 AMA Pro Motocross Championship on Saturday, September 10th at the Pala National in Pala, California.
Musquin Earns First U.S 250 Motocross Podium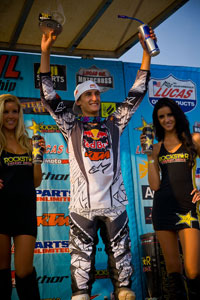 Red Bull/KTM Factory team rider Marvin Musquin earned his first career U.S. AMA Pro Motocross podium finish at the eleventh round of the AMA Pro Motocross Championship Series at Steel City Raceway.
Musquin felt good from the start of the day at Steel City. Despite dealing with the hot temperatures and high humidity levels Musquin turned the 2nd fastest lap in timed qualifying to earn a great gate pick for the main event. At the gate drop of moto one he came around the first corner in 7th position. He quickly climbed to 6th place by the end of the first lap. Once in 6th, he set his sights on the 5th place ride of Tyla Rattray. He spent the next few laps closing in on Rattray and began to set up for the pass. Once around Rattray he pulled forward farther and began to catch Ryan Sipes. One lap later he had moved into 4th position and began to move toward a podium finish. With a few laps remaining he managed to catch and pass Justin Bogle to move into 3rd place. He finished the moto strong and held on to earn his first career podium.
"I was very happy with my first moto finish but I know that it could have been closer if I had a better start. We looked at a few lines and prepared for moto two with a new starting strategy," commented Musquin.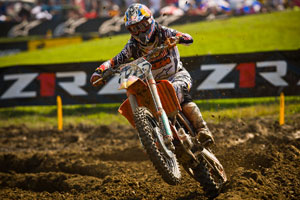 His strategic thinking paid off as he got the jump off the line in moto two and took the holeshot around the first corner. He was passed by Dean Wilson and Eli Tomac in the second corner but remained in 3rd position. He continued to hold that place throughout the remainder of the moto to double his first moto finish with another repeat podium spot. His 3-3 moto results earned him 3rd overall for the day marking his first U.S. career podium.
"It feels so good to finally get on the podium. It has been a tough year with two injuries and to be back up here fighting in the top three is exactly what I have been working toward. I also like the Pala track so I hope to repeat a podium there," stated Musquin after the event.
In the 450 Motocross class, Musquin's teammate, Mike Alessi, made the best out of a track he was not entirely excited about. "I just don't like the track today. I can't get comfortable on it and I struggled a bit in practice," stated Alessi.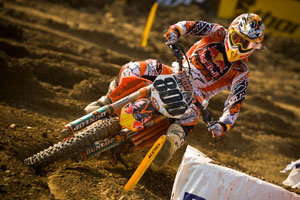 In moto one, Alessi rounded the first corner around 10th place. He came up to 9th early on and then moved up to 8th shortly after. He spent the remainder of the moto closing on the 7th place ride of Justin Brayton. Once he got within two seconds of him, he made a mistake and ran off the track. Alessi lost 10 seconds from the error but didn't lose a position. He was unable to make the time back on Brayton and settled for an 8th place finish.
In moto two, Alessi received a much better start rounding the first corner in 3rd place. He dropped to 5th after the first two laps but remained close to the 4th place ride of Brett Metcalfe for the majority of the moto. He was able to put a gap on the 6th place rider and finish with a comfortable cushion in 5th place when the checkered flag flew. His 8-5 moto scores earned him 6th overall for the day.
"I definitely struggled here today but considering how I felt on the track I am satisfied with my results. I am really looking forward to the final round and hope to get on the podium heading to Pala, stated Alessi.
JDR/J-Star/KTM Race Report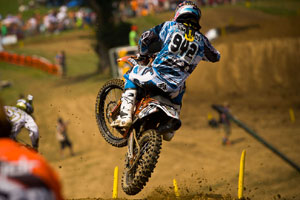 JDR/J-Star/KTM rider Tye Simmonds put together two decent motos in the 450 Motocross class to earn 15th overall at the eleventh round of the AMA Pro Motocross Championship series while fill-in rider Chris Plouffe marked his pro debut in the 250 Motocross class with a 19th place overall score.
In the 450 Motocross class, Tye Simmonds put together two consistent motos to earn 15th overall for the day. He started inside the top twenty in both motos and came up to battle around 15th place. In moto one he was able to secure 15th by putting a last lap pass on Jimmy Albertson. In moto two he was able to finish 16th overall.
"I was happy with my finish today. I had a horrible practice session and wasn't sure how the motos would go for me. To be battling around 15th was a good place for me and I am happy to come away from this race safe and ready for the next round," stated Simmonds.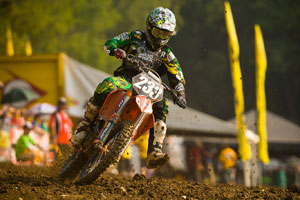 In the 250 class, Plouffe had a top twenty start in moto one and was sitting mid-pack when he suffered a crash early in the moto. The crash dropped him to near last where he quickly set out to catch back up to the front runners. He got back inside the top twenty-five before a mechanical issue caused him to withdraw from the race with a few laps remaining. Plouffe was credited 30th position for his first moto result.
In the second moto Plouffe repeated his mid-pack start. He finished the first lap in 19th and began to set his sights on the riders in front of him. By the moto end he was able to battle his way into 16th position where he finished the race. His 30-16 moto scores earned him 19th overall and 2 points in his first career pro race.
"I definitely was hoping for a better finish, but it was my first race and I am happy with the progress we made from the first moto to the second. I really liked working with the JDR/J-Star/KTM Team this weekend and can't thank them enough for giving me the chance to race for their team these final two rounds. I am looking forward to improving my overall result next week at Pala," remarked Plouffe.
Next Event: Pala Raceway - September 10, 2011
Overall Results 450 Motocross Class:
Ryan Villopoto
Ryan Dungey
Brett Metcalfe
Chad Reed
Jake Weimer
Mike Alessi
Justin Brayton
Kyle Regal
Nick Wey
Michael Byrne
Kyle Chisholm
Colton Facciotti
Justin Barcia
Les Smith
Tye Simmonds
Vince Friese
Ben LaMay
Jimmy Albertson
AJ Cantanzaro
Heath Harrison
2011 Motocross 450 Class Standings:
Ryan Villopoto - 481
Ryan Dungey - 467
Chad Reed - 402
Brett Metcalfe - 342
Mike Alessi - 272
Jake Weimer - 251
Andrew Short - 196
Kevin Windham - 193
Justin Brayton - 191
Davi Millsaps - 173
Overall Results 250 Motocross Class:
Dean Wilson
Eli Tomac
Marvin Musquin
Tyla Rattray
Gareth Swanepoel
Blake Baggett
Justin Bogle
Alex Martin
Martin Davalos
Malcolm Stewart
Kyle Cunningham
Broc Tickle
Jason Anderson
Gannon Audette
Darryn Durham
Ryan Morais
Lance Vincent
Austin Howell
Chris Plouffe
Kyle Peters
2011 Motocross 250 Class Standings:
Dean Wilson - 488
Tyla Rattray - 436
Blake Baggett - 427
Eli Tomac - 290
Kyle Cunningham - 283
Gareth Swanepoel - 270
Broc Tickle - 236
Martin Davalos - 197
Alex Martin - 195
Justin Barcia - 181