Soldiers Ride For Fallen Comrades
Chaparral Motorsports
|
September 2, 2011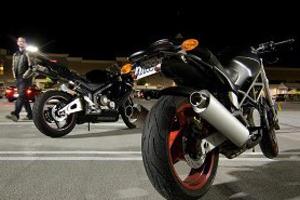 Many different motorcycle clubs and organizations have held rides that are designed to raise money for or simply remember fallen soldiers. However, it's not often that the soldiers themselves get out and ride to show their support.
That was the case at the recent "Ride for the Fallen" in Clarksville, Tennessee. Clarksville Online reports that the ride featured more than 40 soldiers, who all turned out for a day of remembrance and dedication to their comrades. The day was in memory of those who had died during Operation Enduring Freedom, as the 2nd Battalion, 502nd Infantry Regiment, 2nd Brigade Combat Team, 101st Airborne Division had lost several soldiers while serving in Afghanistan. Another soldier had died recently at home in a motorcycle accident.
"It is very important for us as a unit to remember those who are no longer with us," First Sergeant George Fitzke told the news source. "Today we ride in remembrance of the sacrifice many soldiers made during our last deployment."
Fitzke served as the riding instructor for the event. Before the event, he and several other experienced riders instructed the other soldiers on proper technique and safety protocols, to ensure that everyone would stay safe during the memorial ride.