Shinko Releases "Smoke Bomb" Tires
Chaparral Motorsports
|
September 2, 2011
Some riders just love the engine squealing and smoke that comes with a great burnout. There's no doubt that it's a very cool way to start up your bike and get going - it looks like something out of an action movie.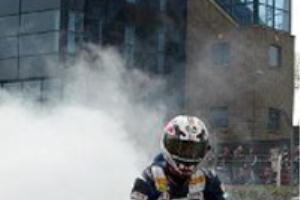 Now, Shinko Tires USA has released a new product that will help your burnouts look better than ever. That's right, the company has actually designed a [mageProductLink sku="369-874670b" title=""]"Smoke Bomb" tire[/mageProductLink] that is specifically designed to enhance your burnouts.
When the rubber on the tire heats up to a certain temperature, it will begin to give off a colored smoke. These motorcycle tires are available in red, blue or purple smoke, so you can customize your appearance to match your bike or leather.
The tires might cause a lot of smoke, but they are DOT approved. Obviously, you'll attract attention to yourself if you pull this at a stoplight, but there's nothing technically illegal about the tires.
Shinko has based the design off their [mageProductLink sku="369-874011" title=""]005 Radial Tire[/mageProductLink]. The company says they will be available this fall and come in the 180/55ZR17 and 190/50ZR17 sizes.[youtube v="qb9WPp1nlak"]