O'Hara Wins First Harley Race At Indy In Over A Century
Chaparral Motorsports
|
September 2, 2011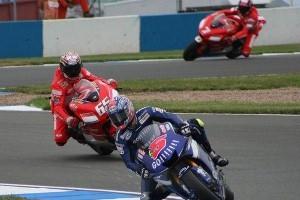 It was a historic day at Indianapolis Motor Speedway this past weekend, when racing fans heard the sound of Harleys at the world-famous Brickyard for the first time since 1909. Most of the races at the Speedway do not use American-made engines, but the AMA Pro Vance & Hines XR1200 series is Harley-only. This was the first year that the competition was held at Indianapolis, and if the racing continues to be as good as it was this past weekend, it will hopefully remain there for many more.
The first race was an absolute classic that saw privateer racer Tyler O'Hara get his first ever win in the series. A big collision at the beginning allowed five racers to break away from the pack - O'Hara, championship leader Chris Fillmore, Jeremy McWilliams, Steve Rapp and Jason DiSalvo. At any point, it seemed that any one of these riders had a chance to win the first Harley race in more than a century at Indy.
Fillmore looked to be headed for glory until he got tangled up with McWilliams, knocking both riders out of the race. It was then Rapp in the lead by a nose, but O'Hara executed a draft pass and snuck by the rider, edging him by .047 seconds in a classic finish.
Fillmore rebounded in the second race with a win to hold onto his championship lead, just 12 points ahead of Rapp.