Heated Motorcycle Gear Keeps Riders Warm
Chaparral Motorsports
|
September 2, 2011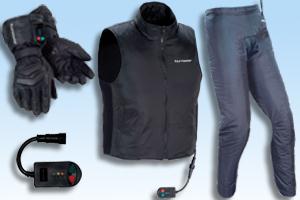 It might be hot out right now, but riders who plan on biking throughout the winter need to start planning ahead for how they are going to cope when the temperatures drop. There are a number of adjustments that riders can make to deal with cold weather, but many forget the most important thing: staying warm themselves.

There are plenty of motorcycle jackets and accessories on the market that are designed to keep a rider toasty during the winter months, but many of these products are bulky and a bit uncomfortable to ride in. That's why those planning to hit the road this winter might want to look at the new Tour Master Synergy 2.0 motorcycle apparel.

This set of riding gear comes with a notable benefit: it's wired to provide electric heat. Simply put on the gear and plug yourself in and you should be feeling the heat drawn off of your motorcycle's power in no time. This does make the products rather expensive, but you can opt for a smaller option, like heated motorcycle gloves, to keep at least one part of your body toasty.

Tour Master Synergy products are already on sale and are available in a wide variety of sizes.