Victory Announces New Cruiser Models
Chaparral Motorsports
|
August 30, 2011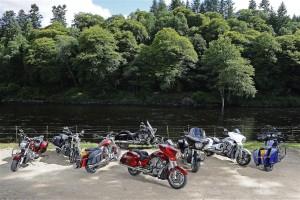 Victory has announced their new lineup of bikes for the 2012 model year, including some fresh takes on their already-successful Cross platform.
The Cross Country Tour is perhaps the most radically different of the models that will be introduced for 2012 by Victory. This bike is based off of the existing Cross Country, but is aimed at riders who want a motorcycle for the long haul. One of the selling points for this bike is that it contains the most storage space of any motorcycle on the market, according to Victory. There's also an iPod hookup and a windscreen for luxurious and comfortable riding over long distances. In addition, the bike now features antilock brakes as a standard feature.
The other new bike is the Cross Roads Classic LE. This model is more of a collector's bike - it will be limited in production and each one will be individually numbered. The bike comes with a beautiful paint job, and there are also numerous customization options available. The Cross Roads boasts all the features of the regular model, but also offers additions like a leather seat and saddlebags, cruise control, fender bumpers and much more.