Stoner Wins His First Indy GP
Chaparral Motorsports
|
August 30, 2011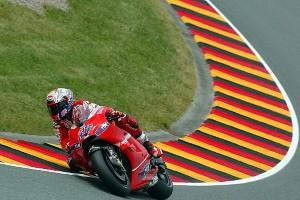 Casey Stoner won his first-ever Indianapolis MotoGP on Sunday, while also building his points lead in the competition over Jorge Lorenzo.
Stoner had previously set the record for the fastest lap time ever at Indianapolis during qualifying. However, he was passed by both Lorenzo and Dani Pedrosa early on in the race. Stoner was able to quickly regain his position at the front, and didn't give it up for the rest of the race.
Pedrosa was able to maintain a steady pace while putting together a second-place finish. The Spaniard had complained openly about the track's new pavement job during testing, but it apparently did not hinder him that much.
Audience favorite Ben Spies showed tremendous heart throughout the race. A terrible opening meant that Spies squandered his first-row position and fell all the way back to ninth. However, Spies rode hard throughout the rest of the race and was eventually able to best his teammate Lorenzo for third overall in front of his hometown crowd.
Lorenzo was forced to settle for a disappointing fourth place, which means his championship hopes are fading fast. The Yamaha rider is in second place overall, but still trails Stoner by 44 points.