MotoGP Racers May Skip Motegi Race
Chaparral Motorsports
|
August 30, 2011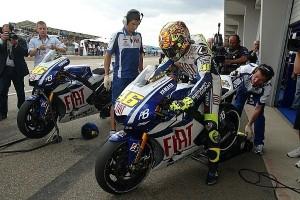 MotoGP riders held an impromptu meeting over the weekend to discuss the potential ramifications of skipping the upcoming Japanese Grand Prix in October against the wishes of race officials.

Nearly all the racers gathered at Valentino Rossi's motorhome inside the Indianapolis Motor Speedway paddock. Rossi has been the most outspoken rider when it comes to skipping the event, which takes place at Twin Ring Motegi.

The crux of the issue centers around fallout from the Japanese earthquake. The event was originally scheduled for April, but was called off due to the earthquake and tsunami. Motegi is located somewhat close to the nuclear power plant that experienced issues in the wake of the disaster. The Japanese government and MotoGP officials say that the radiation levels are completely safe and acceptable. However, the racers are not so sure, and are contemplating a mass boycott of the race.

The group of racers met for nearly an hour to discuss their plans and what consequences each could face, which varies from team to team. However, no decision was reached.

"The situation remains like this and we discussed just a bit, but we didn't speak directly to Carmelo (Ezpeleta), but I think the situation is what you already know," Rossi said at a press conference. "Still up in the air, so that's it."