Chaparral Motorsports Announces Give-Away Winner For New Kawasaki Ninja 250R Motorcycle
Chaparral Motorsports
|
August 29, 2011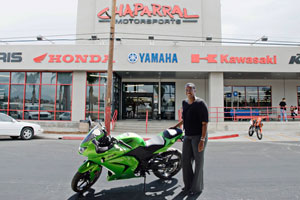 Chaparral Motorsports, one of the leading motorcycle dealerships in California, announced the winner of its Kawasaki Good Times™ Give-Away. The lucky local winner, DeJeanne Taylor, received a new Kawasaki Ninja® 250R motorcycle, one of the most popular Kawasaki sport bikes.
This give-away-which culminates a Spring and Summer-long national promotion-was a great way for both riders and non-riders to join in the excitement that is part of the riding experience.
More than 800 Kawasaki dealers took part in this sweepstakes promotion and according to the motorcycle company officials, the overall response from consumers exceeded expectations.
"We were pleased to have the opportunity to meet with enthusiasts from San Bernardino-Inland Empire area that we hadn't seen in our dealership," said Crystal Ashby, vice president of marketing. "This give-away helped to get people energized, and interested in the newest Kawasaki models," she said.
Chaparral Motorsports offers a complete line of Kawasaki motorcycles, ATVs and utility vehicles, as well as a well-stocked Kawasaki accessories and comprehensive service departments for Kawasaki vehicles. Chaparral is located at 555 South H Street, San Bernardino, California, near the 10 and 215 interchange. Chaparral Motorsports® is recognized as one of the largest motorcycle accessory and vehicle dealerships in the country. Chaparral Motorsports now encompasses a 160,000 square foot footprint. Started as a family motorcycle parts business, Chaparral Motorsports® has developed into a multi-line motorcycle and ATV dealer, offering Honda®, Yamaha®, Kawasaki®, KTM®, Suzuki®, Can-Am, Victory®, Polaris® and Kymco ATV's, motorcycles, and utility vehicles. Check http://www.Chaparral-Racing.com for more news and information.