Can-Am Takes Home ATV Motocross Manufacturer's Cup
Chaparral Motorsports
|
August 29, 2011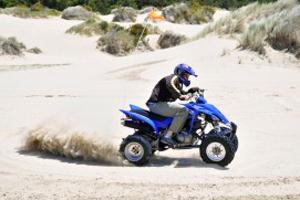 The AMA ATV Motocross Championship has come to a close, and Can-Am has come out on top, with their riders earning the most points throughout the entire season.
AMA announced the official standings after the final race, with Can-Am claiming the top spot at 509 points overall. Honda came in second place, with 470 points. The other manufacturers included Suzuki (380), Yamaha (339) and a disappointing showing for Kawasaki (62). Kawasaki was so low because their only rider, Joel Hetrick, switched to Honda midway through the season.
Can-Am riders John Natalie, Chad Wienen and Chase Snapp had an impressive run this year, taking first place in seven of the 11 races that were run. That was enough to earn Can-Am the coveted Manufacturers' Cup, which will certainly give them bragging rights heading into next season.
"On behalf of BRP and Can-Am we are extremely proud of our racers and teams that contributed to winning this year's Manufacturer's Cup championship aboard the DS450. The entire Can-Am / Motorworks team has worked extremely hard, investing countless hours and making numerous sacrifices to help us achieve our common goal," said Can-Am Race Manager, Jimmie O'Dell.