2011 AMA Pro Motocross Southwick Results
Chaparral Motorsports
|
August 29, 2011
Metcalfe, Dungey, Overcome The Odds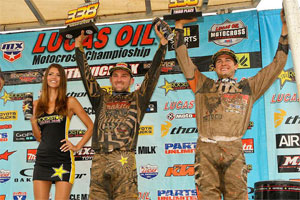 Australian rider Brett Metcalfe was able to get his first-ever 450cc win at the Lucas Oil AMA Pro Motocross Championship at Motocross 338 in Southwick, Massachusetts. The riders were able to get the two motos in before Hurricane Irene hit, although the second moto was affected by some serious weather problems.
Perhaps the most remarkable part of the day was Ryan Dungey's two races. The rider won the first moto, holding off points leader Ryan Villopoto. However, when the second moto was supposed to get underway, Dungey's bike wouldn't start. As the rest of the pack took off without him, it looked like Dungey's championship dreams were over - he started the day down 7 points to Villopoto, and if he didn't end up finishing the race, he'd be even further back with just two races left to go.
According to Cycle News, Dungey nearly threw his motorcycle helmet to the ground in frustration, but his team got the bike working and Dungey started a lap down. Amazingly, he then battled all the way back to finish 7th, resulting in third place overall. Metcalfe posted a 3-2 for first place overall, just beating Villopoto's 2-4. Villopoto was only able to gain one point on Dungey, and now leads by 8 with 2 races left.
Metcalfe Wins Southwick Motocross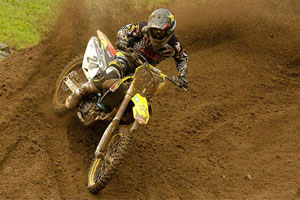 Team Rockstar Makita Suzuki's Brett Metcalfe scored his first-ever AMA Pro Motocross overall win on his Yoshimura-equipped Suzuki RM-Z450 at round 10 of the 2011 AMA Pro Motocross Championships at Southwick on Saturday as team mate Ryan Dungey joined him on the podium in third place overall.
The Rockstar Energy Drink Southwick National took place in the throes of Hurricane Irene, making the already mentally and physically demanding track a muddy, rutted quagmire.
At the start of the first moto, there was a light drizzle and Dungey got the holeshot, but Metcalfe was right behind him in second place. Throughout the next 30 minutes, Metcalfe battled for a podium position and wound up finishing in third. By the time the second 450 moto started, the rain was coming down hard and the sandy course was soaked. Despite this, Metcalfe was consistent and smooth on his Rockstar Makita Suzuki RM-Z450 and finished in second place; the combined results handing him his first overall win.
"Getting this win is definitely the highlight of my motocross career," said Metcalfe. "It's been eight years of racing in the U.S. and trying to get a win, so this is incredible. It's great to be back on the podium again, for both motos and the overall. Thanks to the Rockstar Makita Suzuki team for a great bike in the RM-Z450 and to my family and everyone who's helped make this happen. Hard work, motivation and dedication - stay at it and it happens. Now, there are two more rounds left and I want to take the momentum from this win into Steel City next weekend. I did really well there last year and I feel like that track really suits me. We really have things dialed-in with the bike now, I'm real comfortable, so it's really time to attack and try to go for the win again."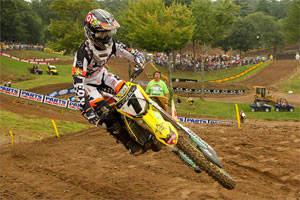 Dungey also demonstrated hard work, motivation and dedication at Southwick. After getting the holeshot in the first moto, Dungey rode flawlessly for the entire race and easily took the win. In the second moto, however, Dungey had to start after the gate had already dropped and he was almost a lap back. In spite of this, he put his head down and piloted the Rockstar Makita Suzuki RM-Z450 through the field. After starting in 39th place, Dungey managed to finish a remarkable seventh in the moto and third overall for the day.
"I have so many mixed emotions right now," said Dungey. "At one point, I didn't even think I was going to be able to ride, but then the Rockstar Makita Suzuki team came through. At that point, I knew it was just a matter of salvaging points. I don't want anybody to take anything away from my team. It's because of them and their hard work that we finished in seventh and were able to pull third overall. If it wasn't for them I wouldn't have been out there at all. But there are four races left and winning the Championship isn't impossible. So now, I'm just focusing on being prepared for Steel City next weekend and getting as many points as possible. I really like the track at Steel City - I've had good rides and success there in the past few years and it will be good to get back there and keep pushing for this title."
The Rockstar Makita Suzuki team's next event is the 11th round of the 2011 AMA Pro Motocross Championship on Saturday, September 3rd at the Steel City National in Delmont.
Alessi Earns 5th Overall at Southwick MX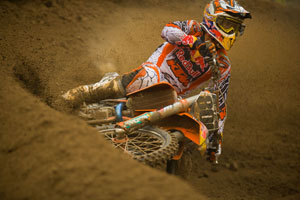 Hurricane Irene held off just long enough for the riders to take to the track at the tenth round of the AMA Pro Motocross Championship Series at MX-338 where Red Bull/KTM rider Mike Alessi earned 5th overall in the 450 Motocross class while his teammate Marvin Musquin took 6th overall in the 250 Motocross class.
The Southwick, MA track is known for being the toughest on the circuit as it is entirely made of sand. Despite the challenges of the track many riders were praising the course today as it is one of the only tracks that could withstand the weather that hit the area during race day. "Hard rainfall made for poor vision on the track. It's all about getting out front early today," commented Alessi. "If you don't get a great start you are going to quickly lose time on the leaders."
Luckily, Alessi got the start he needed rounding the first corner in 3rd place at the start of moto one. He fell to 5th at the end of the first lap and then began a battle with Chad Reed. Alessi was able to hold off Reed for the first three laps before falling to 6th place. He remained in 6th position throughout the first half of the race before moving up to 5th when Justin Barcia DNF'd on lap eleven. One lap later, Alessi was handed another gift when Chad Reed also dropped out of the moto moving Alessi to 4th. He would hang on to 4th for the remaining five laps of the race to earn his seventh 4th place moto finish this season.
In moto number two Alessi earned a 7th place start. He moved up to 6th place on the second lap and remained there the entirety of the moto. Although he was able to secure 6th place in the second moto it was not without challenges. Alessi suffered two crashes in the moto but was able to recover from both to maintain his position. His 4-6 moto scores earned him 5th overall for the day and helped him remain 5th in the championship point standings; an impressive position considering he missed the first two rounds of the series with an injury.
In the 250 class, Musquin suffered from a poor start in the first moto. He managed to end the first lap in 14th place and began to start his charge through the pack. By the fourth lap he had moved inside the top ten and set his sights on the two riders in front of him. On the next lap he passed Ryan Sipes and Shawn Rife to move into 8th. He passed Lance Vincent on lap six to climb to 7th and held that position to the checkered flag.
In moto two he garnered a better start. This time he came around the first lap inside the top ten. He moved to 8th by lap three and had moved into 6th by lap four. He looked to be on a charge forward as he began to creep up on the top five. Unfortunately a mistake around mid-moto dropped him to 8th and he lost another position to Blake Baggett with only four laps to go. Never one to give up, Musquin was able to make one final pass on James DeCotis for 8th place where he finished for the second moto. His 7-8 finishes awarded him 6th place for the day.
Rattray Wins In Southwick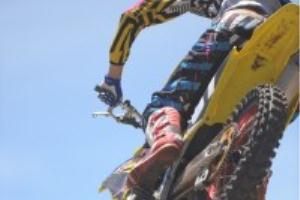 Kawasaki rider Tyla Rattray got his fourth win of the season this weekend during the 250cc races in Southwick, Massachussetts, but it may be a case of too little, too late. With just two races remaining in the season, it appears Dean Wilson has everything locked up.
Rattray lost to Gareth Swanepoel in the first moto, ultimately settling for second place as Wilson took third. Rattray then won the second moto, but Wilson was right there in second place, ensuring Rattray didn't gain on him too much in the standings.
Still, Rattray was happy with the win.
"This track has been good to me," Rattray told Cycle News. "I've ridden in the sand a lot in my career, so it means a little more to win here. I settled for second in the first moto and knew the track was going to be tough in the second moto, so I pressured myself to get a good start, which I did. I was able to get into the lead, and then I just put my head down."
Wilson is now up 38 points with just two races left on the schedule, so Rattray will need to race hard and also have a bit of luck if he hopes to supplant him.
JDR/J-Star/KTM Race Report
JDR/J-Star/KTM rider Tye Simmonds showed splashes of brilliance at the tenth round of the AMA Pro Motocross Championship Series held in Southwick, MA as he turned fast lap times throughout his moto but succumbed to bike troubles in moto one and a mistake in moto two that ruined his chance of a decent overall finish for the evening.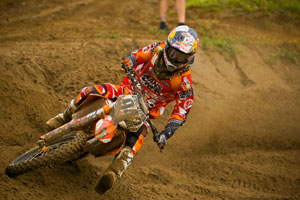 Simmonds suffered from a poor start at the beginning of moto one but quickly turned the throttle to begin his climb through the pack. He rounded the first lap in 21st and had moved to 18th by lap six. Bad luck struck on the ninth lap when he suffered a mechanical problem and had to withdraw from the race. His team quickly went to work to repair the bike and had it ready to go for the second moto.
In moto two, Simmonds had a worse start than the first moto because of his horrible gate pick. He started 27th and had passed four riders by the end of lap two. He climbed to 19th by the end of lap three and continued his charge. By the halfway point he had put together a train of consistent laps moving his KTM into 12th place. He made a few mistakes in the remaining laps that dropped him back to 15th where he finished the moto.
"I was very disappointed to not finish the first moto but I was happy with my second moto result. I have never raced Southwick before, and it is definitely more demanding on the bike and on the rider than I had imagined. I felt good the second moto and was hoping to move closer to the top ten but I made some mistakes at the end and slipped back. Overall, I am glad that we fixed the bike issue and I was able to get in one decent moto," stated Simmonds.
Missing from action at Southwick was JDR/J-Star/KTM 250 Motocross rider PJ Larsen. The Australian Champion announced last week that he had suffered a neck injury prior to Unadilla that will keep him from competing at the remaining rounds. Larsen has been recovering at his home in California and his looking forward to making his return in the 2012 Supercross Series.
Next Event: Steel City - Delmont, PA - September 3, 2011
Southwick 450 Class Overall Results:
Brett Metcalfe
Ryan Villopoto
Ryan Dungey
Justin Brayton
Mike Alessi
Jake Weimer
Justin Barcia
John Dowd
Les Smith
Kyle Chisholm
2011 Motocross 450 Class Standings:
Ryan Villopoto - 431
Ryan Dungey - 423
Chad Reed - 366
Brett Metcalfe - 304
Mike Alessi - 243
Jake Weimer - 221
Andrew Short - 196
Kevin Windham - 193
Davi Millsaps - 173
Justin Brayton - 163
Overall Results 250 Class:
Tyla Rattray
Dean Wilson
Gareth Swanepoel
Alex Martin
Blake Baggett
Marvin Musquin
Broc Tickle
Gannon Audette
Justin Bogle
Darryn Durham
Championship Point Standings 250 Class:
Dean Wilson - 438
Tyla Rattray - 400
Blake Baggett - 398
Kyle Cunningham - 264
Eli Tomac - 246