IIHS Calls For Mandatory Motorcycle Helmet Laws
Chaparral Motorsports
|
August 22, 2011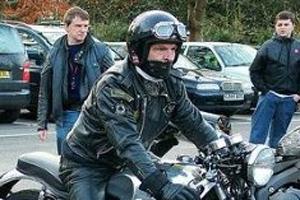 The IIHS is a non-profit organization funded by insurance companies and dedicated to cutting down on accidents. The group is highly-regarded for their "top safety picks" in both the automotive and motorcycle worlds (although they have faced some criticism from the American Motorcyclist Association in the past). The IIHS recently submitted a report to the National Highway Traffic Safety Administration (NHTSA), which is responsible for government safety regulations, suggesting that mandatory motorcycle helmet laws be enacted in all states.
The group was looking for ways to cut down on road fatalities, and submitted seven suggestions to the NHTSA according to their own data. At the moment, 20 states, including Washington D.C., have mandatory motorcycle helmet laws on the books, while 27 have partial laws. The states of Iowa, Illinois and New Hampshire have no laws whatsoever. In states that have mandatory laws, nearly all riders obey, but that figure drops to about 50 percent in those with partial or no laws.
According to the group's data from 2009, 1,500 deaths were prevented due to the use of motorcycle helmets. The group also believes that nearly 750 additional deaths could have been prevented had those riders been wearing helmets.
Other recommendations made to the NHTSA included DUI checkpoints, red-light camera systems and more roundabouts in place of intersections.