PJ Larsen Out For Remainder Of Motocross Season
Chaparral Motorsports
|
August 19, 2011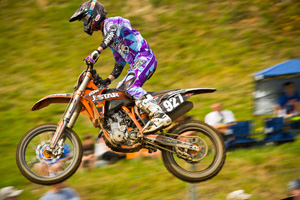 JDR/J-Star/KTM rider PJ Larsen will not compete in the remaining four rounds of the AMA Pro Motocross Championship Series due to a neck injury sustained prior to the Unadilla Motocross round.
Larsen, who returned to the series at the Millville round in mid-July, has only competed in three outdoor nationals this season after sitting out the first half of the series with scaphoid fracture in his right wrist. Just as his wrist healed, his unfortunate luck returned to him prior to Unadilla.
Larsen fell during a practice session prior to the Unadilla motocross round and complained of pain in his neck. "My neck was sore but I figured I just kinked it and it would heal by Unadilla," remarked Larsen. "I took some aspirin and made a last minute decision to race Unadilla." Larsen's results would suffer as his neck injury caused him pain mid-moto and his lap times began to fade.
Once he returned home on Monday he was evaluated by his doctor and told that he had cracked his C-4, C-5 and C-6 vertebrae in his neck and would be advised to take a minimum of six weeks off from riding.
"I can't believe that I was able to race after finding out that my neck was cracked. I also can't believe the bad luck I have had with injuries this year. After winning two Championships in Australia in 2010, I was hoping to have a great season in America and am upset that I haven't been able to complete a season yet," remarked Larsen. "I plan to rest the next few weeks to allow my neck to heal and then begin working hard on Supercross testing to be prepared for the opening round at Anaheim."