Hopkins Undergoes Surgery In America
Chaparral Motorsports
|
August 19, 2011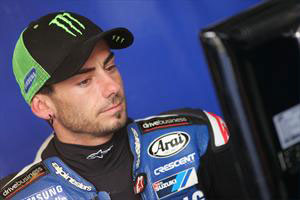 John Hopkins has had surgery on the third finger of his right hand in America to correct a break and dislocation following his crash at last weekend's Czech Republic MotoGP at Brno where he was a 'Wild-Card' entry.
Fractures to the Samsung Crescent Racing Suzuki BSB rider's first and second fingers required no special treatment and are healing in the normal way.
Jack Valentine - Team Manager:
"John flew home to the States immediately after the accident and his surgeon assessed the damage then operated on the third finger."

"John is now relaxing at home and on the recommendation of his surgeon is undertaking all the usual rehabilitation treatments like hyperbaric chamber sessions. The aim is for John to come back 100% fit; his goal and that of Samsung Crescent Racing is still to win the 2011 BSB Championship."

"Early next week we should be in a better position to report on how the injury is progressing, but for now we understand all is going to plan and we can look forward to seeing 'Hopper' back on the grid soon."