Changes For The 2012 Honda CRF450R
Chaparral Motorsports
|
August 15, 2011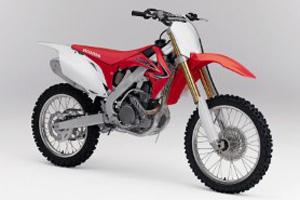 Cycle News was recently given the chance to try out the new 2012 Honda CRF450R, and gave their impression of the changes that Big Red has made to the dirt bike for this year.

Suspension appeared to be the key focus for Honda this season, as it's the area where they made the most radical changes. The news provider believes that the changes worked as intended, giving the bike a most secure ride on all parts of the track.

"The idea behind these changes is to make the Honda, which has had that "stink bug" feel in the past, more balanced and level while in motion, thus making it feel more stable and planted around the entire track," wrote the news source. "We found that the changes do just that, but most noticeably when setting up for corners and while hard on the brakes."

The suspension wasn't the only part of the bike that was reworked. New [mageProductLink sku="331-8440" title=""]MX51 Dunlop[/mageProductLink] motorcycle tires are one of the other key upgrades for the CRF. Honda fans should also notice larger footpegs on the back. True gearheads may pick up on the fact that the bike's fuel injection system has been reprogrammed for this year, but it's a minor change.