2011 AMA Pro Motocross Unadilla Results
Chaparral Motorsports
|
August 15, 2011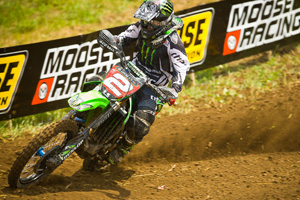 Villopoto Posts A 1-1 Finish
Despite leading the field in terms of overall points, Ryan Villopoto had not yet swept a weekend during this year's AMA Motocross season. However, he changed that this weekend by posting his first 1-1 finish of the year and building on his already impressive lead.
Villopoto won both of his races in a weekend that turned out to be quite repetitive at the top. Villopoto went 1-1, followed by Ryan Dungey at 2-2 and Justin Barcia at 3-3. Barcia was racing in his first 450cc class race after being promoted from the 250cc class by Honda when Trey Canard went down to injury.
Villopoto rode a 2012 KX450F for the first time and appeared to like the new model quite a bit.
"It was definitely a good day," Villopoto told Cycle News. "The team and I made the decision to go to 2012 Kawasaki for this weekend, and it was definitely the right move. Knowing what we had was a lot better, I felt like we were in a great position to win today. I got good starts and was able to work my way through the field and it puts me in good position for the championship."
Dungey and Suzuki Podium at Unadilla MX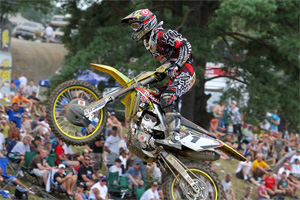 Team Rockstar Makita Suzuki put on an impressive performance at round nine of the 2011 AMA Pro Motocross Championship in the Rockstar Energy Drink Unadilla National in New Berlin, New York at the weekend.
Reigning AMA Pro Motocross Champion Ryan Dungey raced his Yoshimura-equipped Rockstar Makita Suzuki RM-Z450 to a strong second place overall at one of the most gruelling courses in the series as team mate Brett Metcalfe rode two solid motos but had to overcome a collision with another rider to bring home 12th place overall.
In the first moto, Dungey got a good start but had a minor off-track excursion early on, but he managed to make his way back up into second place by the end of the race. In the second moto, he put his head down and moved into a podium position in third place, but made a daring last-lap move that put him in second place at the end of the moto - and second-place overall for the day.
"In the first moto, I high-sided a rut and almost threw it away," said Dungey. "But I was able to get back on the track and work my way up into second place. In the second moto, the Rockstar Makita Suzuki RM-Z450 was running great, but I got stuck in third for a little while. I was able to make the most of the bike and the track and also take advantage of some things; and I moved into second place on the last lap. Overall, I'm happy. We had fun - and thanks to all the fans and my family and Team Rockstar Makita Suzuki. We've got a short break before Southwick so I'm going to focus on training and getting ready for that race. I won both motos there last year and I'm hoping to do that again this year."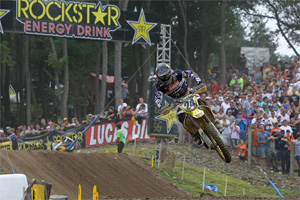 Metcalfe struggled with starts all weekend but made the best of it: In the first moto he charged hard on his Rockstar Makita Suzuki RM-Z450 from 12th place all the way to a solid sixth-placed finish. In the second moto, he was running with the top 10 and then moved through the field to battle for fifth place. Towards the end of the moto, however, he had contact with another rider and went down. He remounted and tried to salvage as many points as possible and in the end brought home a 12th-placed overall finish.
"I really wanted to be contending for the podium again," said Metcalfe. "Unfortunately my starts were a little off and this is a tough track to pass on. On the positive side, I rode strong; I came through the pack and was able to make moves. In the first moto, I ended up sixth. In the second moto, I had a good ride going and was challenging for fifth. But I came together with another rider and my front brake got jammed and that cost me. The Rockstar Makita Suzuki RM-Z450 was working awesome and the team was great, so it's a 'bummer' I wasn't able to show what I could do. But now I'm looking forward to Southwick. I had some bad luck there last year and I want to redeem myself. I'm going to be running up front and I want to win that race."
The Rockstar Makita Suzuki team's next event is the 10th round of the 2011 AMA Pro Motocross Championship on Saturday, August 27th at the Rockstar Energy Drink Southwick National in Southwick, MA.
Alessi Earns 5th at Unadilla Motocross National
Red Bull/KTM Factory rider Mike Alessi put together two solid motos to earn a top five finish at the ninth round of the AMA Pro Motocross National Championship Series held at Unadilla Raceway.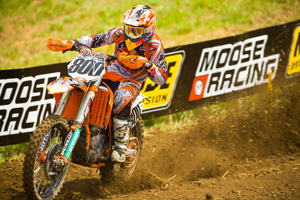 Alessi turned the fourth fastest practice time early in the day which gave him the confidence boost he needed heading to the main event. In the first moto he had a decent start rounding the first corner in 6th place. He held 6th position for the first four laps of the race before moving up to 5th on lap five after Christian Craig fell back. He battled alongside Chad Reed and Brett Metcalfe around the middle of the race before losing two positions to them to fall back to 7th, where he finished the moto.
"I definitely struggled with the track the first moto. I made a lot of little mistakes and lost a lot of time, and unfortunately, a few positions," remarked Alessi after the first moto.
Alessi's teammate, Andrew Short, had unfortunate luck in the first moto. He started the race inside the top ten and was running ninth for the first few laps. It was on the fourth lap of the race where his chain derailed and he was not able to finish the race. "It's one of those situations that you never hope happens, but unfortunately, it did and it cost me the first moto. My plan is just to attack the second moto as hard as I can to try and get back some points," stated Short.
As they lined the gate for the second moto, it was Alessi out front early after pulling one of his signature holeshots. He was able to lead for the first two laps before the top two series point leaders and the local New Yorker, Justin Barcia, were able to get around him. Alessi settled into 4th place and rode a solid race to finish in that position with a huge gap to 5th place behind him. His 7-4 moto scores placed him 5th for the day and moved him to 5th in the overall point standings.
"I am really happy to get 5th here today. It moved me up in points which I am pretty excited about since I missed the first two rounds. I feel good about my season after missing some races and coming out now near the end in the top five. I hope to keep progressing as we head to the final three rounds," said Alessi.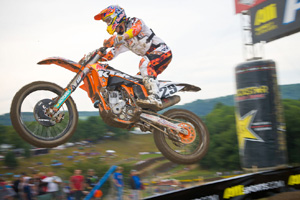 Short also rode an impressive second moto. He started outside the top twenty and made a remarkable charge through the pack. After 30 minutes and two laps, Short had caught and passed over thirteen riders to move his KTM into 8th position at the checkers.
"It felt really good to go out and get a good second moto under my belt. It was unfortunate that I had such bad luck in the first moto, but my 8th place salvaged 14th for the day and that helps in the point standings," remarked Short.
The third member of the Red Bull/KTM Factory team is 250 class rider Marvin Musquin. The French rider put together some solid practice times near the top five in what is only his third race since returning from injury. Musquin had a great start in the first moto rounding the second corner in 2nd place before getting pinched off in the following corner and dropping to 4th. Musquin fell a few more positions early in the race and was sitting in approximately 9th position as the moto was nearing a close. It was at this point that Musquin found a second wind and came back up and passed two of the riders that had overtaken him earlier. He crossed the finish line to secure 7th for moto one.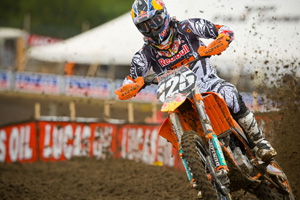 In moto two, Musquin had another good start, this time in 6th position. Unfortunately on the second lap, he fell in an off-camber corner at the far end of the track and lost approximately ten positions. He recovered outside the top fifteen and prepared to begin to make up those positions. He used his time wisely and picked off multiple riders throughout the remaining laps. He passed Alex Martin for 9th with only a few laps to go and he made a pass on Malcolm Stewart for 8th on the final lap. His 7-8 results earned him 6th overall for the day.
JDR/J-Star/KTM Race Report - Unadilla Motocross
JDR/J-Star/KTM riders PJ Larsen and Tye Simmonds had an off day at the ninth round of the AMA Pro Motocross Championship Series after both suffered from poor starts and mid-race crashes that set them back in both motos.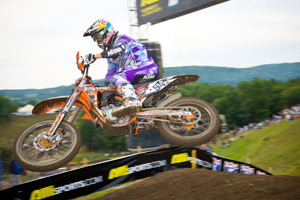 Simmonds was up first in the 450 class. He got an average start around 20th place. He quickly moved up to around 18th where he was sitting behind fellow Aussie Josh Strang. "I moved in behind Josh and, unfortunately, tucked the front end in a corner and had a crash," remarked Simmonds. "I got the bike back up and tried to ride back to where I had been. I struggled after the crash as I lost track of my breathing and began to ride tight which led to arm pump." Simmonds eventually finished the first moto in 19th.
In the second moto, Simmonds again started mid-pack. He worked his way up into 15th throughout the moto and looked to have the position secured. Unfortunately, as the leaders came around, Simmonds didn't realize that as he moved over for the leader he had allowed another rider to catch and pass him. He dropped to 16th for moto two. "I was bummed to lose the position at the end of the moto, but at the same time, glad that I rode strong through the whole moto. I plan to go home and continue to work on my overall intensity for the next rounds," remarked Simmonds.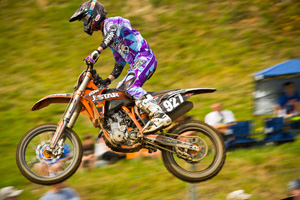 In the 250 class, Larsen had similar starts to Simmonds beginning both motos outside the top twenty and having to work through the pack. Larsen crashed early on the first lap of moto one and dropped outside the top thirty. He spent the entire moto climbing through the pack working toward the top twenty. Just as he began to catch the top twenty riders he suffered another crash, this time hurting his wrist. He decided to pull off and was unable to finish moto one.
"I made a last minute decision to race the second moto as I felt like my wrist would be strong enough to hang on," remarked Larsen. He was riding inside the top twenty for the majority of the moto before suffering a big mistake near the end of the moto. A rider's muffler had fallen off and was laying on the course when Larsen landed square on it almost causing him to crash. Luckily he avoided hitting the ground but he did lose a few positions for that. At the moto end he was able to finish 19th.
Wilson Gets The Win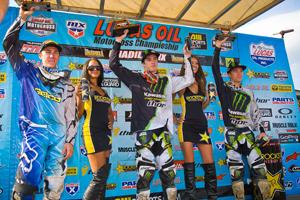 Monster Energy/Pro Circuit/Kawasaki rider Dean Wilson leads the point standings in the 250cc class of AMA Motocross, but going into this weekend he had yet to score an overall victory. He finally did so in convincing fashion, winning both Motos on his way to a 1-1 finish.
Wilson's teammate Blake Baggett followed up closely in second with a 2-3 performance. The Monster Energy team is undefeated thus far in the season, winning 18 motos and 9 overall victories. Eli Tomac was third with a 5-2.
Wilson made no secret that it was nice to finally get the monkey off his back and score an overall victory, despite his strong performance in the points standings.
"It was a great day," said Wilson. "I was just having fun out there. I feel like when I'm out there having fun, I definitely ride my best. I've been angry to not get an overall yet this season, but now I feel relieved. I just felt good and refreshed and excited to race again. I couldn't sleep last night I was so excited."
With just a few races left in the season, Wilson holds a 25-point advantage over his teammate Baggett in the points standings.
Next Event: Southwick, August 27, 2011
Ryan Villopoto
Ryan Dungey
Justin Barcia
Chad Reed
Mike Alessi
Jake Weimer
Justin Brayton
Kyle Regal
Jimmy Albertson
Jake Canada
Nick Wey
Brett Metcalfe
Ricky Dietrich
Andrew Short
Christian Craig
Lowell Spangler
Michael Byrne
Tye Simmonds
Ben LaMay
Shane Sewell
Unadilla 250 Class Overall Results:
Dean Wilson
Blake Baggett
Eli Tomac
Kyle Cunningham
Justin Bogle
Marvin Musquin
Martin Davalos
Gareth Swanepoel
Alex Martin
Cole Seely
Tyla Rattray
Ryan Morais
Nick Paluzzi
Gannon Audette
Malcolm Stewart
Jason Anderson
Mathew Lemoine
Broc Tickle
Jimmy DeCotis
Travis Baker
Lance Vincent
Darryn Durham
PJ Larsen
Justin Sipes
Michael McDade
2011 Motocross 450 Class Standings:
Ryan Villopoto - 391
Ryan Dungey - 384
Chad Reed - 366
Brett Metcalfe - 262
Mike Alessi - 210
Andrew Short - 196
Kevin Windham - 193
Jake Weimer - 190
David Millsaps - 173
Tommy Hahn - 140