Desalle And Roczen Take The Czech Republic
Chaparral Motorsports
|
August 9, 2011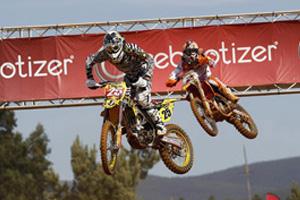 Clement Desalle and Ken Roczen were the big winners at the recent MX1 and MX2 motocross events at the Casino Bonver GP in the Czech Republic.

Desalle, riding for Rockstar Energy Suzuki, came in second place and first place in his two motos, which was good enough for first overall. He gained a small amount of points on MX1 championship leader Antonio Cairoli, who finished first and fourth for second place overall. Cairoli still leads by nearly 50 points with just three races left, so it appears that he has the championship in the bag if he races smart the rest of the way.

In MX2, Roczen won both of his races, but the second was considerably harder than the first. Although he led wire-to-wire in the initial race, the conditions played a role in the second, but Roczen was able to persevere and come out on top.

"I had a problem in the second race because all the sweat was running down inside my goggles and I couldn't see too well so it was bad conditions for me for sure and not easy to win the race," he told Full Noise.

Roczen is also in good position in the points standings, up by 27 points on fellow KTM rider Jeffrey Herlings.