Smith Nabs Dramatic Flat Track Victory
Chaparral Motorsports
|
August 3, 2011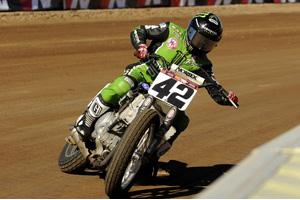 A sold-out crowd witnessed an epic victory at the recent AMA Flat Track race at the Cal Expo Fairground's Sacramento Mile, with Josh Smith topping rival rider Chris Carr by approximately .042 seconds.

The AMA called the win one of the most dramatic in recent memory, and it's tough to argue with that. It appeared that Carr had the race in the bag after leading for much of the 25-lap race. Jake Johnson of Zanotti Racing challenged Carr early on, but Smith wasn't really in the race until it began to wind down.

Smith eventually took the lead, but it appeared Carr would soon take it back. It all came down to the final stretch, and ultimately it was less than a tenth of a second that separated the two racers.

"Nobody is more surprised than me," said Smith. "I thought Chris was just playing with me - it seemed like he could pass me any time he wanted to."

The results did not have major implications for the overall points standings. Smith and Carr are not really in the conversation at this point, as Sammy Halbert is up four points on both Johnson and Jared Mees.