2011 AMA National Enduro Series Cross Fork Results
Chaparral Motorsports
|
August 2, 2011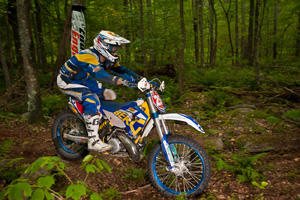 Fahringer Makes it Two in a Row
Husaberg Factory rider Nick Fahringer continued his win streak when he took the victory at his second straight AMA National Enduro this time at the eighth round of the series held in Cross Fork, PA.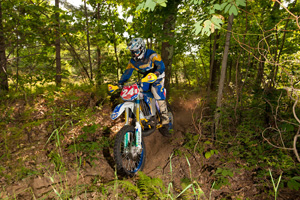 To make the victory sweeter, he was joined on the podium by his Husaberg teammate, Mike Lafferty, who finished the race in 2nd overall. This marked the best overall finish for two Husaberg riders in the AMA National Enduro Series to date.



Despite taking the win, Fahringer actually had a slow start to his day. He placed 6th in the opening test section. "The first test was the most challenging for me today. It was pretty open and fun but it was super dusty and hard to see. I struggled through the dust and it showed in my overall time," remarked Fahringer.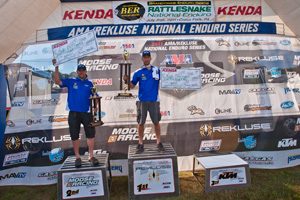 He did not let the first test result slow him down and he quickly got back up to speed in the second test. He went on to win that section as well as three more of the days tests. When it was all said and done, Fahringer took home four of the six test wins to claim the overall victory. Lafferty picked up the fourth test win and finished 2nd in two of the other tests to easily earn the runner-up position on the podium. FMF/KTM rider Charlie Mullins rounded out the podium.


Both Husaberg riders have recently switched to the new Husaberg TE300 two-stroke race machine which they credit to their improvement near the end of the race season. "The two-stroke is an amazing bike to race in the tight woods. It is so easy to move around and the handling is perfect on all types of terrain. We went through a number of elements and obstacles today and the bike was flawless," stated Lafferty.


Next Event: Round 9 - Chandlersville, OH - August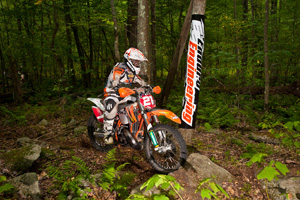 Mullins Podiums at Rattlesnake National Enduro

Factory FMF/KTM Team rider Charlie Mullins earned 3rd overall at the eighth round of the AMA National Enduro Series held in Cross Fork, PA. His teammates Cory Buttrick and Russell Bobbitt finished right behind him in 4th and 5th position.


Mullins got off to a great start after turning the fastest time in the first test to take the early lead. In the second test he was able to put together another decent run to finish 3rd behind Husaberg's Nick Fahringer and Mike Lafferty. He remained within the top three in all but one of the remaining tests and was able to hold on to a podium position.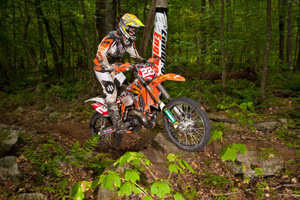 His teammates Buttrick and Bobbitt battled together throughout the day. Bobbitt held 4th position in front of Buttrick in the first half of the race. After the third test Buttrick stepped up to the challenge and was able to make up some time on Bobbitt. At the end of the race only 10 seconds separated the two teammates as Buttrick edged out Bobbitt for the position.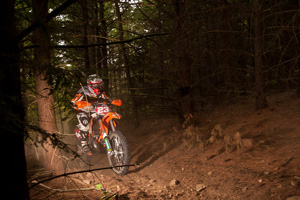 Now eight rounds into the series, Bobbitt remains the series point leader by just 1 point over Mullins. The next round is set for August 28, 2011 in Chandlersville, OH.


Overall Results

1. Nick Fahringer

2. Mike Lafferty

3. Charlie Mullins

4. Cory Buttrick

5. Russell Bobbitt

6. Shane Hufford

7. Andrew Delong

8. Thad Duvall

9. Cole Kirkpatrick

10. Richard Lafferty

Overall Point Standings

1. Russell Bobbitt - 193

2. Charlie Mullins - 192

3. Nick Fahringer - 168

4. Cory Buttrick - 160

5. Mike Lafferty - 129