Motorcycle Enthusiast Wins Vintage Bike
Chaparral Motorsports
|
July 29, 2011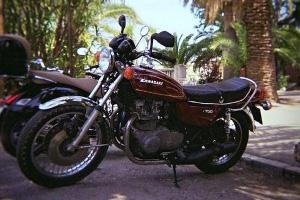 The AMA Vintage Motorcycle Days occurred this past weekend, and one lucky fan was able to walk away from the raffle with not one, but two vintage motorcycles to add to his garage.

Scott Carey of Pecotonica, Illinois, had his name called during the grand prize raffle at the event. Since Kawasaki was the marque of the year, the big prizes were a restored 1973 Kawasaki Z1 and a brand-new Z1000.

Carey was ecstatic about the win, and said that the Z1 was his dream bike when he was first getting into motorcycle riding as a youngster.

"When I was growing up, the Z1 was the big boy," said Carey. "I was talking to a friend about getting one just a few weeks ago. And the Z1000, just this spring I was looking at that as a new bike. This is just great. I'm very excited to win both of these bikes."

It's always nice to see a rider get a new motorcycle, but those who wish they had their own vintage bike will have to wait until next year. The AMA has already announced which bike will be raffled off - a beautiful 1947 Indian Chief meticulously restored to its original condition.