Product Spotlight - Joe Rocket Alter Ego 3.0
Chaparral Motorsports
|
July 28, 2011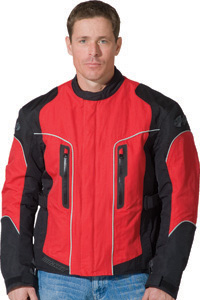 Question:
How many summertime riding jackets do you own? You have a waterproof jacket.
Then there's the warm-weather mesh jacket. Then you have that well-protected sport jacket
with the good spine protector.

Question: How many times have you tried to take them all on one ride?

Joe Rocket's new [mageProductLink sku="225-1051-6105" title=""]Alter Ego 3.0[/mageProductLink] can be your ONE jacket. If you live in the Southwest and the morning is cool,
or if you live in Florida and that inevitable afternoon rain hits, this MetaSport II System multi-personality jacket is for you.
The Alter Ego 3.0 jacket features an outer layer treated to be 100% waterproof. It's designed to be warm, protective and comfortable, too. Hook & loop closures on the wrists and around the waist provide an extra snug fit when desired. This shell will keep out the cool and the wind, and it still has ventilation when needed, thanks to waterproof zippers.






Because clothing comfort is all about layering, the system even includes a removable inner fleece vest when extra warmth is needed. When you and the weather start to warm up, simply zip off the entire outer garment - or simply remove the fleece vest - and fold the outer shell into its self-contained pouch. Below that waterproof outer and the fleece vest is an armored mesh jacket. It uses the manufacturer's heavy duty polyamide mesh called Free-Air mesh. This super durable nylon provides the extra durability needed in a breathable mesh riding jacket.


That armor includes a removable spine protector, as well as armor in both the shoulders and the elbows. All this protection passes C.E. ratings, marking the gear as approved by independent testers to meet European standards for product safety.


The jacket has reflective stripes - on both the inner and outer shells - for increased visibility. Handy pockets inside the mesh liner will hold glasses, or even your helmet's spare faceshield.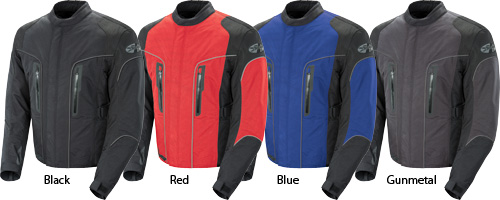 The Joe Rocket Alter Ego 3.0 jacket system starts retail at $234, and is available in Blue, Red, Black and Gunmetal Grey - in sizes ranging from Small to 3XL.