Pirelli Stays On As Superbike Supplier
Chaparral Motorsports
|
July 28, 2011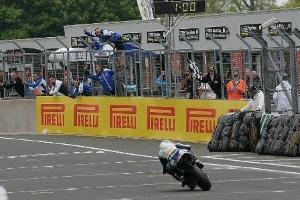 Italian motorcycle tire manufacturer Pirelli has announced that it has signed a new contract to provide spec tires for both British and World Superbike competitions.

The company signed a new three-year contract that will keep their tires as the standard through the 2015 season. In a press release, factors such as the quality of tires and happiness of racers were cited as reasons for keeping the manufacturer onboard.

"We are delighted to be able to renew the contract with Pirelli until the completion of the 2015 season," said Paolo Flammini, the CEO of Infront Motor Sports - the promoters of World Superbike. "Eight years of working together have provided results that go way beyond our highest expectations. Once again we can count on a tire supplier, whose commitment to the product, service and development is second to none."

As Pirelli remains the manufacturer for all riders in both British and World Superbike competitions, it makes transferring between the two racing series easy for riders. For example, if John Hopkins wants to ride in the World competition this weekend (which he will, according to Cycle News), he can simply use his bike from the British competition, as it's already equipped with the Pirelli tires.