Pastrana Talks X Games 17
Chaparral Motorsports
|
July 27, 2011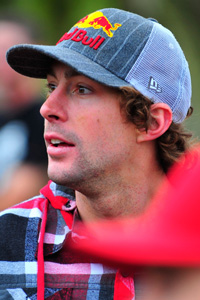 Travis Pastrana explains how he plans to tackle freestyle motocross, NASCAR and rally racing all in one weekend!
It just wouldn't be X Games without a good dose of Travis, would it? He's busier than ever with his Nitro Circus Live show, NASCAR racing, rally racing and Freestyle motocross, but extreme sports icon Travis Pastrana is always sure to be found at the ESPN X Games ( tickets on sale now). He's not an easy guy to pin down, but in the midst of navigating through LA traffic, Travis phoned in to talk about the upcoming X Games 17 and what he has in store for STAPLES Center fans this weekend.

What events are you going to be doing at X Games 17?
Um, that's a great question. The first one is best trick [on Thursday] and if I don't get too hurt there I'll probably be doing Freestyle X on Friday. Then on Saturday I have to fly back to Indianapolis for the Nationwide NASCAR race. Then I'm going to fly back on Sunday for the Rally event. That's the plan... unless I'm really hospitalized. [laughs]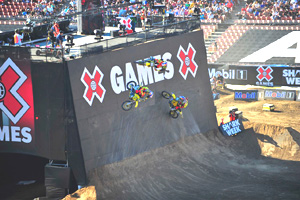 The word is you're going to be attempting your signature "Toilet Paper roll" trick again for Moto X Best Trick. Is that the plan?
Yeah. [laughs] It's basically a 720. We'll see how that goes. It's a lot of mass rotating in a lot of different directions. You have to launch with the same pull for the double backflip and then you have to translate that energy into a spin and then somehow try to land it. I've been practicing a lot but right now I'd say it's about 50/50 [whether I land it or not]. We'll see how it goes!

You've been pulling some big tricks, like the double backflip, at your Nitro Circus Live show, but using a wooden landing with padding. Is there anything like that at X Games?
Nitro Circus is a show. We're trying to progress and move forward so we want to make it as safe as possible. But at X Games you don't have padding - no safety net, no cushions. And that's the way it should be. You either land it or you crash. There's no safety net at X.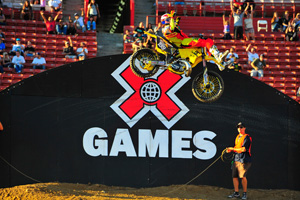 You've had such an impact on X Games throughout your career - particularly in freestyle. Is it something you always see yourself participating in?
Well, in 2006 I thought it was going to be my last year doing freestyle. I wanted to focus on other things. Freestyle is pretty intense because you're always pushing the envelope and trying to top the last trick. It's been a tough go, and it's difficult to stay on top of the sport. I think after this year's X, I'm going to take a step back and I'm now trying to focus on the NASCAR. Not that I'll ever quit riding freestyle.

The Enduro X is a new addition to this year's Moto X events. Is that something you were tempted to try? Have you ever ridden EnduroCross?
I tried it, had one concussion and decided it really wasn't my thing. [laughs] I'm not really a technical rider. I always like that stuff like Erzberg and hard core trail riding, but EnduroCross is really unforgiving. Anyone can go fast in EnduroCross for a little bit, but to race it is another thing. If I was doing nothing else, I might train for it and give it a shot. But it's really not my thing.

If I'm done with Rally in time, I'm going to be there to watch. For the fans, it can't be much better. There's no other racing where you'll see the lead rider crash three times in one lap! It's awesome for fans, but as a rider it's unforgiving.

Moto X Best Trick is Thursday, July 28 at STAPLES Center and tickets can be found here: TICKETS

X Games 17:
ESPN X Games celebrates its 17th year by returning to Los Angeles with more than 250 of the best action sports athletes competing for the most coveted medals in Skateboard, BMX Freestyle, Moto X and Rally Car Racing. X Games 17 takes place July 28 - July 31, 2011 within the downtown area among four world-class venues - STAPLES Center, Nokia Theatre L.A. LIVE, the L.A. LIVE Event Deck and Lot 7.

STAPLES Center is the place for all things Moto X; featuring Moto X Speed & Style, Step Up, Best Whip, Racing & Enduro. Fans of BMX and Skateboard Vert will experience the thrilling competition when they literally take center stage inside Nokia Theatre L.A. LIVE.

For more information on ESPN X Games, visit www.espn.go.com/action/xgames. To purchase X Games 17 tickets ( Click).

X Games 17 On TV
ESPN, ESPN2 and ABC will offer 25 hours of live, HD programming from X Games 17 in Los Angeles. ESPN3.com will simulcast 23 hours and ESPN 3D will telecast 21 hours of live X Games coverage. For additional X Games 17 info, go to www.xgames.com