Stoner Wins Red Bull Grand Prix
Chaparral Motorsports
|
July 26, 2011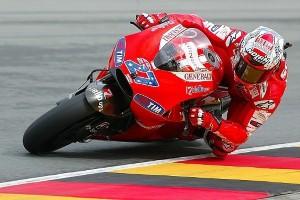 Casey Stoner was able to turn it on late to push past Jorge Lorenzo during an exciting Red Bull Grand Prix.

Racing for Repsol Honda, Stoner has been on a tear this year in the competition, topping the leaderboard. However, his recent results have left something to be desired. It looked like a repeat of the past few weeks as the Spaniards Jorge Lorenzo and Dani Pedrosa shot out in front.

Stoner chased down his teammate Pedrosa and eventually got into position to overtake Lorenzo. Stoner then executed a brilliant outside pass to fly past Lorenzo and stay in front through the rest of the race, though Lorenzo had led for the majority.

"We felt good, really good at the end of the race and I think people have forgotten about us a little bit," Stoner told Cycle News. "The last few weeks we definitely struggled, for some reasons that we know why, but it's really good to come back with a race like this and show everybody we can still win."

Lorenzo finished second with Pedrosa in third. American Ben Spies put in a strong showing in front of his home country crowd, just missing out on a podium in fourth place overall.