Kawasaki Continues 250cc Dominance
Chaparral Motorsports
|
July 26, 2011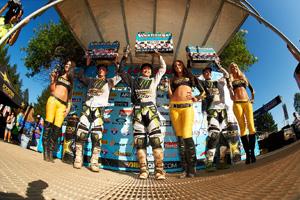 Monster Energy Kawasaki continued their dominance of this year's 250cc AMA Motocross competition, sweeping the podium at Washougal, Washington.

For the fifth time this year, three riders from the team occupied the three spots on the overall podium. After winning the first moto, Blake Baggett took third place in the second race to earn first overall on the weekend. He was closely followed by Tyla Rattray, who finished second in both races.

The third slot was seized by Dean Wilson, who followed up a disappointing fifth place finish in the first moto by winning the second one. The final lap of the second moto was quite exciting, as Wilson was just barely able to hold off a charging Rattray - if Rattray had passed him, he would have earned first overall. Meanwhile, Baggett made a brilliant pass to take third place and ensure he ended up on top of the podium.

While Wilson finished third, he still sits atop the overall leaderboard, significantly out in front of his two teammates. Wilson now leads the point standings with 346, ahead of Rattray at 333 and Bagget at 329. For the time being, it appears that the championship is undoubtedly in Kawasaki's hands - the next closest rider, Kyle Cunningham, is a full 100 points behind Rattray.