2011 AMA Pro Motocross Washougal Results
Chaparral Motorsports
|
July 25, 2011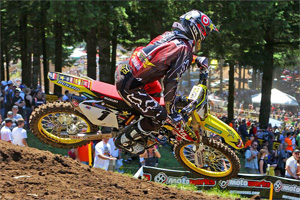 Dungey and Suzuki Win Washougal MX
Team Rockstar Makita Suzuki's RM-Z450s dominated round eight of the 2011 AMA Pro Motocross Championship at the Washougal National in Washougal, on Saturday afternoon.


Not only did Ryan Dungey take the overall victory on his Yoshimura-equipped Rockstar Makita Suzuki RM-Z450, he was also joined on the podium by his team mate Brett Metcalfe who finished third. This result was Dungey's third victory of the season and puts him just one point shy of the lead in the overall Championship points standings. Meanwhile, this result marks Metcalfe's first AMA Pro Motocross podium of the year.


Reigning AMA Pro Motocross Champion Dungey got a great launch on his Rockstar Makita Suzuki RM-Z450 in the opening race and slotted into second position. He dogged the leader for most of the 30-minute moto and then tried to reel him in with just three laps left. He made a pass for the lead in the outside of a turn but lost the rear and went down. He quickly remounted and finished up in second place. In the second moto, Dungey again got a good start but a crash resulted in a red flag early on. When the moto was re-started, Dungey took the holeshot and rode a flawless race to take the moto win and the overall victory.


"The weekend was good," said Dungey. "Practice went well although we made some changes to the Rockstar Makita Suzuki RM-Z450 going into the first moto that worked out. We got off to a good start and settled in pretty good, then I was trying to make a pass for the lead and made a mistake and had to settle for second. In the second moto, I got off to a good start and was able to put down some good laps and open up a bit of a gap. With that, we took the moto win and the overall for the day.


"The track was tough, slippery and challenging, so you had to be really patient with throttle control. But the RM-Z450 was working awesome - a lot of traction, handled well and the Rockstar Makita Suzuki team did a great job as well. Now we've got a little bit of a break, we're going to take some time off this week and get ready to get at it for Unadilla. I like that track, it takes a lot of finesse and throttle control, gets really rough and choppy; and I always look forward to going back there."


Metcalfe also left Washougal in a celebratory mood. In the first moto, he got a good start, put his head down and rode his Rockstar Makita Suzuki RM-Z450 from sixth place into fourth. At that point, he kept it consistent and smooth, and finished fourth. In the second moto, he grabbed a great launch after the re-start and was running in fifth. But he rode his Suzuki aggressively and slowly but surely charged through to third place in the moto. These two solid moto results handed Metcalfe third place overall for the day.


"This first podium feels awesome," said Metcalfe. "In moto one, I got a pretty good start on the Rockstar Makita Suzuki RM-Z450 and I was up in the top five. I went into the second corner and took a bad line and got pushed wide and slipped back to eighth, but I was able to make some moves and get up there and I finished in fourth. In the second moto, I was able to get a much better start and I made a few moves and got in fourth. I had to close the gap up on third and I made a move and finished that moto in third and that was good enough for third overall. I want to thank everyone at Rockstar Makita Suzuki and especially Yoshimura; the RM-Z450 was really fast out there. Now, I'm really looking forward to Unadilla. I love racing there, it's a really good track and I've done well there. We've got the Suzuki figured out, I'm comfortable and I can start to attack and be aggressive and try and push and battle for some wins now."


The Rockstar Makita Suzuki team's next event is the ninth round of the 2011 AMA Pro Motocross Championship on Saturday, August 13th, at the Rockstar Energy Unadilla National in New Berlin, New York.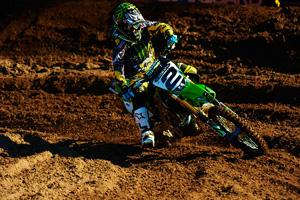 Villopoto Seizes Points Lead in Washougal

The 450cc class of the AMA Lucas Oil Motocross series continues to be fascinating, with three riders in contention for the top spot and a new points leader after this past weekend at Washougal, Washington.

Ryan Villopoto and Ryan Dungey ended up even on points earned during the weekend. Villopoto won the first moto with Dungey in second, but in the subsequent race, Dungey went wire-to-wire while Villopoto was in second. That meant Dungey took the top spot on the podium, although Villopoto had a better prize - the overall points lead.

The season has been so close that Villopoto only leads Dungey by one point. The previous points leader, Chad Reed, fell to nine points back. Reed's terrifying fall last week during a jump has made highlight reels across the globe, and the fact that Reed got up and continued racing is admirable. However, he was clearly off his game at Washougal, finishing 7-4. That allowed for a new points leader.

Thankfully for Reed, the series has a three-week break coming up, which should allow him to refocus as the home stretch comes up.

Of particular note during the weekend was an injury to Trey Canard. Canard had just battled his way back from a broken femur when tragedy struck - he crashed early and broke the same femur again, ending his season.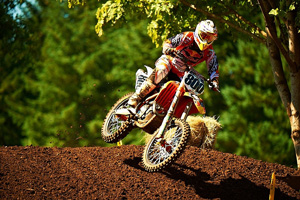 Red Bull/KTM 450 Riders Finish Top Ten at Washougal Motocross

Red Bull/KTM Factory riders Mike Alessi and Andrew Short finished inside the top ten at the eighth round of the AMA Pro Motocross Championship held at Washougal Motocross Park.


Alessi started decently in the first moto before suffering a crash in the second turn. By the time he crossed the finish line at the end of lap one, he was sitting in 30th place. Meanwhile, his teammate, Short, got a great start and was sitting in 5th place. By lap two Alessi had already passed seven riders, he passed four more on lap three and three more on lap four. Now sitting in 16th, he quickly began to close on fellow KTM riders Tye Simmonds and Kevin Rookstool. Alessi was able to make the pass on both riders to move into 14th. He continued to push and made three more passes by the halfway point to move into 11th. He closed in on Jimmy Albertson for 10th and made the pass into the top ten on lap twelve and one lap later passed Byrne for 9th. He maintained his pace and finished a hard fought 9th overall at the end of moto one. Short battled inside the top five throughout the entire moto and put in one of his most impressive motos this season to finish 5th.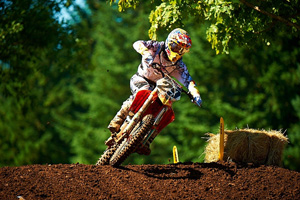 In moto two, Alessi and Short both had great starts well within the top ten. Unfortunately, the race was red flagged on the first lap after Trey Canard crashed and broke his femur. The race restarted, and Short was able to garner another good start coming around the first corner in 7th. Alessi had worse luck and came around the first corner mid-pack. Still on the first lap, Short was racing in 7th position when he spun out and fell back to 11th. He spent the next laps breaking back into the top ten and eventually found himself in a long battle for 8th position with Jake Weimer. Short eventually got around him and was holding 8th place on the last lap when he stalled his bike and dropped back two positions. He finished the moto in 10th place. Alessi put together another solid come from behind charge and worked from his mid-pack start back to 6th in the second moto.


"I had bad luck on the starts of both motos today," commented Alessi. "But I felt really good on this track and was able to move forward pretty quickly. I would have liked to finish inside the top five, but overall I feel pretty happy with my results given the starts that I had today."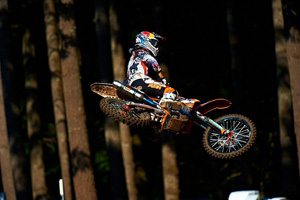 Red Bull/KTM Factory rider Marvin Musquin made his return to the 250 class at Washougal after sitting out the last seven weeks recovering from injury. He had a great first moto, finishing 10th overall. "I was very happy with my first moto. My hand felt good and I didn't feel too tired. I just tried to ride a safe race and put together a solid moto," remarked Musquin.


Musquin was showing his speed again in the second moto when he moved from his 12th place start up to 9th position by the halfway point. Unfortunately, Musquin suffered a crash in the whoop section near the end of the second moto which dropped him to 18th. With only a few laps left, he was not able to make up the positions he lost and he finished 18th in that moto. His 10-18 results earned him 14th overall for the day.

JDR/J-Star/KTM Race Report - Washougal MX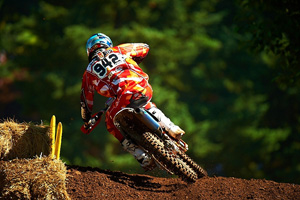 JDR/J-Star/KTM rider Tye Simmonds put together two consistent motos at the eighth round of the AMA Pro Motocross Championship Series held in Washougal, WA to finish 14th overall. His teammate, PJ Larsen, in only his second race back since breaking his wrist, had mixed luck at the event finishing a disappointing 22nd overall.


Simmonds started around mid-pack both of his motos. In each race he was marked 17th as he crossed the finish line jump on the first lap. He spent the majority of both motos defending his position and didn't make his passes until the end of each race. In both motos he was able to move into 15th near the moto end and eventually made the pass to 14th within the final few laps. His pair of 14-14 finishes placed him 14th overall for the day.


"I had a great race at Millville and was looking forward to being near the top ten at Washougal. I struggled a bit with some of the shadows on the track and couldn't quite catch the top ten today. I know where I need to improve and I will continue to work hard during this two week break to try and get back toward the top ten at the next round," remarked Simmonds after the race.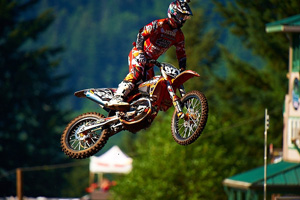 Simmonds 250 class teammate, Larsen, had an off-day at his second race back this season. He had a poor start in his first moto and worked his way up to 15th near the halfway point. "I was feeling really good before the halfway marker but then I began to tighten up and it caused me a few positions. My wrist actually felt good, I just need to work on my endurance more." Larsen finished the first moto in 19th.


In the second moto he had a much better start in 16th place on the first lap. He raced in that position for the first three laps before he washed his front end out at the top of the big up hill. He lost a lot of time from his crash and recovered near 30th place. With the remaining laps he managed to catch back up to 20th. His 19-20 moto scores earned him 2nd overall.


"This was not the race I wanted, but I am glad to finish a race. I am still trying to get my moto speed up since I was off the bike for so long. We are making progress every week and I know this break is definitely going to help me get stronger," stated Larsen.


Next Event: Unadilla - August 13, 2011

Overall Results 450 Class

1. Ryan Dungey

2. Ryan Villopoto

3. Brett Metcalfe

4. Chad Reed

5. Justin Brayton

6. Mike Alessi

7. Tommy Hahn

8. Andrew Short

9. Jimmy Albertson

10. Michael Byrne

11. Trey Canard

12. Jake Weimer

13. Weston Peick

14. Tye Simmonds

15. Nick Wey

Overall Results 250 Class

1. Blake Baggett

2. Tyla Rattray

3. Dean Wilson

4. Kyle Cunningham

5. Gareth Swanepoel

6. Justin Barcia

7. Malcolm Stewart

8. Martin Davalos

9. Darryn Durham

10. Broc Tickle

11. Tommy Weeck

12. Gannon Audette

13. Alex Martin

14. Marvin Musquin

15. Jason Anderson

22. PJ Larsen

2011 Motocross 450 Class Standings:

1. Ryan Villopoto - 341

2. Ryan Dungey - 340

3. Chad Reed - 332

4. Brett Metcalfe - 247

5. Kevin Windham - 193

6. Andrew Short - 183

7. Mike Alessi - 178

8. David Millsaps - 173

9. Jake Weimer - 159

10. Tommy Hahn - 140