Las Vegas Bikefest: A Motorcycle Rally For Adults
Chaparral Motorsports
|
July 21, 2011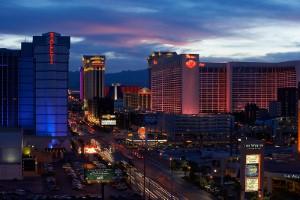 Some motorcycle events are family friendly, with plenty of activities for kids to enjoy. Las Vegas Bikefest is not that kind of rally.

Scheduled to run from September 29th through October 2nd, the Las Vegas Bikefest is all about having fun in the City of Sin. Like Vegas itself, it's not a rally aimed at the whole family, but rather an event that includes more adult activities to partake in.

Some of the events on the calendar that typical motorcycle rallies don't run include Mr. and Miss Las Vegas, a poker tournament and a wet t-shirt contest. Not every event is out of the ordinary, however. Like many other rallies held around the country, there are also plans for organized rides, a bike competition, music concerts, contests and much more. Part of the attraction is the city itself - many famous hotels are offering reduced rates as part of rally packages.

In addition, organizers are planning a massive "Vendor Village" this year, so riders who are looking to stock up on the latest motorcycle gear will have another reason to attend.

The Las Vegas Bikefest typically brings more than 35,000 people to Sin City, so those looking for a weekend of adult-themed fun should consider planning out their trip ahead of time.