Pedrosa Recovers In Germany
Chaparral Motorsports
|
July 20, 2011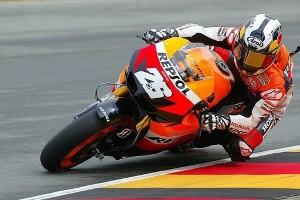 Dani Pedrosa got his first win since coming back from collarbone surgery at the Saschenring in Germany.

It's been nearly three months since the controversial incident between Pedrosa and Marco Simoncelli, which sidelined the Spanish rider and ruined his hopes of a championship. Pedrosa returned to the previous race at Assen, but got off to a slow start.

"It's unbelievable feeling after all to come back so soon and win," Pedrosa said. "It's unbelievable feeling. I mean, already yesterday with the front row I was super-happy because I didn't expect it at all. And not either the race win, so I'm really happy."

At the Saschenring, it was Jorge Lorenzo in the lead to start the day, but Pedrosa quickly proved that he had the chops to take down the reigning world champion. After Pedrosa passed Lorenzo and built a comfortable lead, it was Casey Stoner who moved up into second. However, Lorenzo dug deep and eventually was able to overtake Stoner with just two turns to go, salvaging some points and keeping himself within striking distance of the Australian rider.

MotoGP comes to the U.S. next weekend with a race at the Mazda Laguna Seca Raceway in California for the U.S. Red Bull Grand Prix.