2011 AMA Pro Motocross Spring Creek Results
Chaparral Motorsports
|
July 18, 2011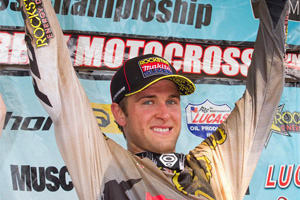 Dungey and Suzuki Storm Millville MX
Team Rockstar Makita Suzuki showed its true Championship-winning colours at round seven of the 2011 AMA Pro Motocross Championship at the Spring Creek National in Millville as Ryan Dungey powered his Yoshimura-equipped Suzuki RM-Z450 to the overall win and team-mate Brett Metcalfe carded a solid sixth-placed result.


Despite heavy rains the day before, the Spring Creek soil was in good condition for the first 30-minute moto. Dungey and his Rockstar Makita Suzuki RM-Z450 put on a good show for the fans, with Dungey getting a good start and powering into the top three early on. By the time the moto was over, Dungey had notched an impressive second-placed finish.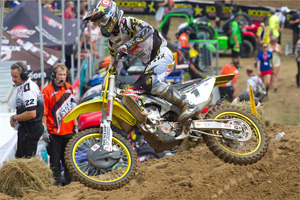 In moto two, Dungey got another good start on his Rockstar Makita Suzuki RM-Z450 and was running firmly in second place before reeling in the leader to take the win and the overall victory. This result is Dungey's second overall victory of the season and his fourth win in a row at Spring Creek. Additionally, he's now just one point away from second and seven from first place in the overall Championship standings.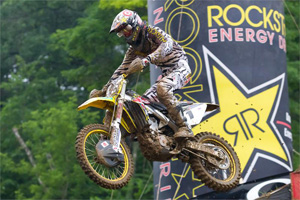 "Coming in, I didn't really know what to expect," said Dungey. "With the mud, it was kind of a weird deal. We got a lot of rain the night before and I didn't know how the track was going to be. The first two practices were a little sloppy, but in the first moto, I got off to a really good start on the Rockstar Makita Suzuki RM-Z450. But I wasn't able to make passes as quick as I wanted to and I ended up second. In the second moto, I also got a good start and was in third. Then, I got into second and was able to close up the gap, make the pass for the lead; and get the overall. Obviously, being here at Millville and having the hometown crowd is great; it's always a treat to be back here because I love the track and the fans are great. I grew up with a lot of people who came out today, so that was an extra bonus. I'm glad to get another win for the Rockstar Makita Suzuki team and this is a good step in the right direction for the Championship."


Metcalfe struggled a bit but still put in a strong performance overall. He got a good start in the first moto but then had to overcome a mid-race get-off in order to finish up in sixth place. In the second moto, his start wasn't ideal, but he put his head down and rode a smart, aggressive race to pick up a solid top-five finish to take sixth overall.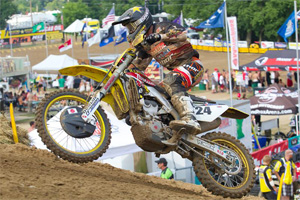 "It was a tough day for me, but I felt like my riding was good today," said Metcalfe. "I got a good start in the first moto. I was up there in fifth and I was trying to get around into fourth, but it was difficult to pass. I was sitting there for a few laps which sort of cost me because I was searching for a different line and that's what took me down. I went into the outside in a corner and it was too muddy and I lost the front end. That was a mistake that dropped me back to sixth and then I was too far behind to make a charge for fifth. But I still felt like overall I rode pretty good.


"In the second moto, I didn't get the best of starts but I was able to make some really good moves in the first couple of laps and I felt aggressive and charged through to fifth. It was a good day for us; the Rockstar Makita Suzuki RM-Z450 was working awesome for me and everybody on the Suzuki team has been putting in a big effort. I really want to get up there and get top three for these guys."


The Rockstar Makita Suzuki team's next event is the eighth round of the 2011 AMA Pro Motocross Championship on Saturday, July 23rd, at the Washougal National in Washougal.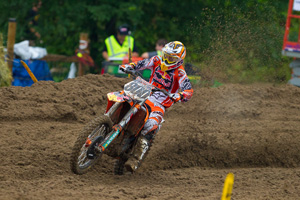 Alessi and Short Finish Top Ten at Millville

Red Bull/KTM Factory riders Mike Alessi and Andrew Short finished inside the top ten at the seventh round of the AMA Pro Motocross Championship Series held at Spring Creek Raceway in Millville, MN. Alessi finished an impressive 4th overall while Short earned 8th overall for the day.


Alessi earned a decent start in the moto one rounding the first corner inside the top five. His teammate, Short, was slightly farther behind sitting in 12th. Alessi remained in 4th position until lap three when he was able to get around Trey Canard for 3rd position. He was able to hold his position for the next five laps of the race until lap nine when Ryan Villopoto began his charge. Villopoto made the pass on Alessi on the tenth lap to take over 3rd position. Alessi dropped to 4th and maintained his pace to secure that position for moto one.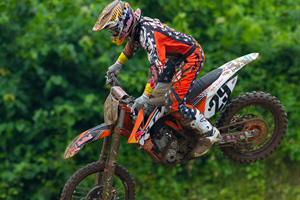 Meanwhile, Short was busy climbing through the pack. When Tommy Hahn had an issue on lap two, Short moved into 11th. On the next lap Short passed Kevin Windham for 10th place. He remained in that position for two more laps while he reeled in Jimmy Albertson. He quickly moved around Albertson and began to set his sights on fellow KTM rider Tye Simmonds. He passed Simmonds for 8th and then began work on Jake Weimer. As they neared the halfway mark he made his way around Weimer to secure 7th place. He held strong for the second half of the race and finished in 7th.


In moto two, Alessi earned another 5th place start while Short was sitting in 10th. Alessi passed Weimer for 4th on lap three and remained in that position through the checkered flag. His 4-4 results earned him 4th overall for the day. Short raced around 10th position for the majority of the second moto before making a pass on Kevin Windham for 9th near the end of the moto. Short's 7-9 results placed him in 8th overall.


"The second moto was difficult for me. It was very humid out and the heat began to wear on me. I definitely had a hard time charging through the pack. I was glad I was able to get Kevin (Windham) at the end," remarked Short.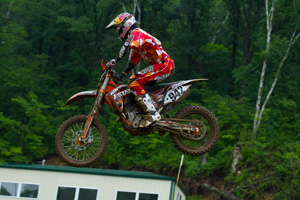 Simmonds Earns 12th at Millville Motocross

JDR/J-Star/KTM rider Tye Simmonds tied his career best 450 Motocross class finish at the seventh round of the AMA Pro Motocross Championship Series at Spring Creek MX Park when he finished 12th overall.


Simmonds had a decent start in the first moto rounding the first corner in 11th place. Simmonds passed into 10th on lap two and moved up an additional spot on lap three. Two laps later, Simmonds actually held 8th place for two laps before Red Bull/KTM rider Andrew Short made the pass on Simmonds. He dropped to 9th and maintained his pace to hold the top ten position through the remainder of the race to finish in his best moto result of the season.


In moto two, Simmonds earned another decent start rounding the first corner in 12th place. He passed Jimmy Albertson on lap 6th to move into 11th. He maintained that position for the next five laps before Albertson made a late charge to earn the position back. Simmonds moved back to 12th where he would finish the race. Simmonds 9-12 moto scores earned him 12th overall for the day.


"I am very excited with my results. I have been battling with pneumonia this season and this is the first race where I have felt really good and it showed in the improvement in my results. It feels good to be back in racing shape," remarked Simmonds.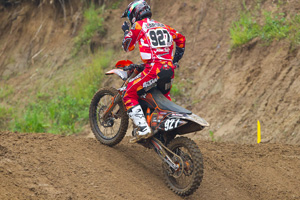 Simmonds Lites teammate, PJ Larsen, made his return to racing at Millville after sitting out the last seven weeks healing from a wrist injury Larsen had a bad start in the first moto but was climbing through the pack quickly. He had moved as high up as 12th before he suffered a mechanical problem and had to withdraw from the race. "Unfortunately we had a mechanical issue and weren't able to finish the race. We will look into the situation and have everything resolved for next week," remarked Larsen after the race.

Wilson, Rattray and Baggett put Kawasaki on Top in Millville

Next Event: Washougal Motocross - July 23, 2011

Overall Results 450 Class

1. Ryan Dungey

2. Ryan Villopoto

3. Trey Canard

4. Mike Alessi

5. Chad Reed

6. Brett Metcalfe

7. Jake Weimer

8. Andrew Short

9. Justin Brayton

10. Kevin Windham

11. Jimmy Albertson

12. Tye Simmonds

13. Michael Byrne

14. Tommy Hahn

15. Fredrik Noren

Overall Results 250 Class

1. Tyla Rattray

2. Dean Wilson

3. Blake Baggett

4. Kyle Cunningham

5. Alex Martin

6. Broc Tickle

7. Wil Hahn

8. Gareth Swanepoel

9. Gannon Audette

10. Jason Anderson

11. Martin Davalos

12. Justin Barcia

13. Eli Tomac

14. Darryn Durham

15. Malcolm Stewart